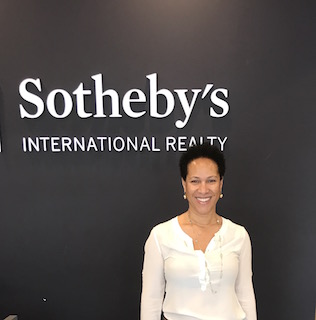 When you take on the real estate market — as either a buyer or seller — it's a good idea to have someone savvy, trustworthy and knowledgeable by your side.  Michele R. Gonzalez, Associate Real Estate Broker for Julia B. Sotheby's International Realty with almost 20 years of experience, fits that bill. A walking encyclopedia of everything real estate, Michele has lived in Westchester County for twenty-six years, and understands the communities where she works.
Beyond that, she understands pricing, a variety of housing markets, staging, the nuances of financing and quite a bit about home maintenance. (This is really helpful for a realtor to have — whether buying or selling.)
A certified negotiator, Michele puts her clients, whether buyers or sellers, at ease.
"We hit the jackpot when we found Michele," one client raves. "From the first time we spoke, she was warm, welcoming and incredibly knowledgeable about the local real estate market."
Self-motivated, clients report that Michele pays a lot of attention to the small details of the process, and consistently follows up on leads and contacts. "She was truly amazing — our rock when things got tough," said a customer who bought a home in Tarrytown last winter. "She never panicked and never seemed to break a sweat. Exactly the type of support you want when going through the home-buying process."
When representing the buyer, Michele always presents offers with a positive and motivated attitude. For sellers, she works to get the best price possible, utilizing her prowess as a skilled certified negotiator.
"Working with Michele was a dream," said a recent seller. "She knew the challenges and pitfalls to avoid. Moreover, she was always available to answer our questions and provide solid advice and recommendations on how to best position our home for sale."
It is important to have someone you can trust help you deal with what is often among the most important transactions of your life.
Michele R. Gonzalez
Licensed Associate Real Estate Broker, CBR
Julia B Fee Sotheby's International Realty
46 Main Street, Irvington, NY
C: 914-391-4179 / O: 914-295-3516
michele.gonzalez@juliabfee.com