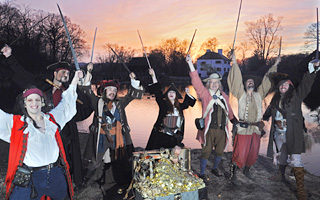 Gangs of blackbeards and beauties will be swashbuckling their way though Sleepy Hollow this Fourth of July weekend as Historic Hudson Valley launches a brand-new family friendly event called "Pirates of the Hudson: The Siege of Sleepy Hollow."
Produced by the same creative team behind the October smash hits of Horseman's Hollow and the Great Jack O'Lantern Blaze,
Pirates of the Hudson features a mother lode of activity including live pirate music courtesy of the Crimson Pirates and the Brigands, gypsy sword dancers, and other entertaining scallywags who will engage the crowd, trying to get as many as possible to "go on the account" and pledge to live forever more as a pirate.
"Once you go on the account, you get branded as a pirate and immediately begin training," said Lance Hallowell, the event's creative director.
Once "branded," pirate recruits get to practice proper pirate behavior like sword fighting and musket handling, plus learn to master the all-important subject of piratical linguistics ("Avast, ye maties!").
Pirate-for-life or not, festival attendees can enjoy games like the Maiden's Voyage, where superior fish-tossing skills might send a lass to the bottom of the sea (err, water tank). Visitors can take their own watery voyage courtesy of Davy Jones' Locker, a multi-sensory ride, and explore Dr. Grymm's museum of oddities, featuring sea mysteries including a "real-life" captured mermaid.
Kids can take part in the Pieces of Eight treasure hunt, wiggle their way through a huge pirate shipwreck, and learn to speak, act, and mix it up like a pirate. They can also get a temporary tattoo from a professional artist.
A blacksmith will handcraft tools of the pirate trade like grappling hooks and boarding axes while a cooper applies his woodworking skills to producing custom-made peg legs.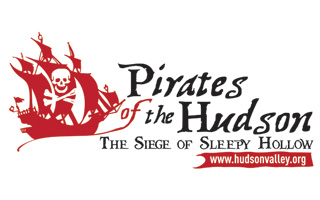 In all, more than 40 pirates and buccaneers will be on-site. Pirates of the Hudson showcases the merchant history of Philipsburg Manor — originally the seat of a 52,000-acre commercial empire — through the lens of a hearty pirate festival.
"As merchants heavily involved in the trans-Atlantic trade, the Philipse family had extensive dealings with pirates and privateers," said Thom Thacker, site director of Philipsburg Manor. "This event is a fun way to celebrate that history and make those connections for visitors in a festival atmosphere."
Draft brews from event sponsor, Captain Lawrence Brewing Company, will be available, as well as a multitude of pirate-themed culinary creations from Tastefully Yours of Briarcliff Manor.
The Thieves Market gives visitors the opportunity to bag exclusive Pirates of the Hudson booty including t-shirts, mugs, place mats, postcards, and magnets, as well as classic pirate accessories such as eye patches, hooks, masks, and bandannas.
Kraken Alley will feature artists working in various media to illustrate the mythological sea beast which gives the alley its name.
Event admission is by advance timed ticket and all experiences are continuous throughout the afternoon. Tickets are available on the hour beginning at 3 p.m., July 2-4. The last admission is at 6 p.m. Ticket prices are $16 for adults and $12 for children under 18. Members of Historic Hudson Valley receive a $5 discount per ticket. Pirates of the Hudson is held rain or shine. Proceeds benefit Historic Hudson Valley, the Tarrytown-based non-profit educational organization which owns and operates Philipsburg Manor.
Philipsburg Manor is at 381 North Broadway (Route 9) in Sleepy Hollow. For information and tickets: 914-631-8200, www.hudsonvalley.org.