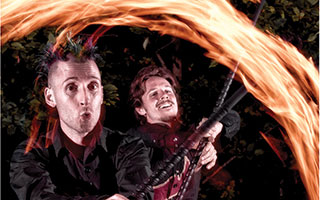 Circus performers, fire jugglers and pirates take over Sleepy Hollow and Croton-on-Hudson, June 21st-23rd.  A pirate, a fire juggler and an acrobat walk onto an historic site and… BEHOLD — family friendly fun commences! Historic Hudson Valley, the non-profit education and preservation organization that owns and operates several museums of history including Van Cortlandt Manor and Philipsburg Manor, is presenting three early summer events geared for revelers of all ages.
Kicking off the fun on June 21st is A Night on Fire. Back in the area by popular demand — but here in Sleepy Hollow for the first time — the event features a band of fire jugglers lighting up the night at Philipsburg Manor. Expanded in 2013 to four performances over two evenings, A Night on Fire debuted in Croton-on-Hudson last year to a sold-out crowd.
At right, A Night on Fire coming to Philipsburg Manor for the first time this year. Image courtesy of A Different Spin.
Performed by the juggling and comedy troupe, A Different Spin, A Night on Fire will feature spectacular stunts and family friendly humor and is ideal for audiences of all ages. Performances take place at 8:15 pm and 10 pm on Friday, June 21st and Saturday, June 22nd. This one-hour performance is a fully choreographed, live display of fire arts featuring four flame-wielding, fire-eating performers twisting and turning; juggling and dancing; spinning and sword fighting. The vaudeville-meets-funk sounds of Emperor Norton's Stationary Marching Band kicks off the show.
Next up is Animals & Acrobats, which takes place 10 am – 5 pm at Van Cortlandt Manor in Croton-on-Hudson on Saturday, June 22nd and Sunday, June 23rd. Featuring a variety of performers and animal conservation groups, Animals & Acrobats evokes an early American traveling circus. An ambassador wolf, stilt-dancers, soaring acrobats, gargantuan puppets, and the chance to become a circus star are some of the event's highlights.
In America's early days, fire jugglers, tumbling acrobats, rope walkers, magicians — indeed, clever characters of all sorts — used to travel the countryside as a ragged band of entertainers, setting up shop at various locales. This event pays homage to that tradition.
Animals & Acrobats features continuous performances from Boston Circus Guild, a professional troupe melding daring stunts and comedy, offering a range of circus magic including high-flying acrobatics, stilt-dancing (not walking, dancing!), and gargantuan puppets who roam the crowd, plus contortionists who squeeze themselves into the tightest of spaces. The animals are represented by Two by Two Zoo and the Wolf Conservation Center, groups that introduce people to fascinating wildlife while teaching conservation lessons. Ambassador wolf Atka, hopping kangaroos, flying lemurs, monkeys, pythons, parrots, and goats are some of their traveling stars.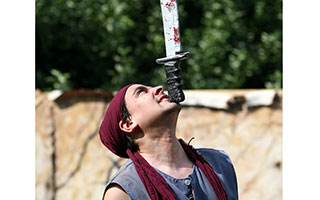 Kicking off on July 4th, pirates will storm Sleepy Hollow and take over Philipsburg Manor during Pirates of the Hudson. Gypsies and scallywags of all sorts will roam the grounds, looking to make you smile with an 'aarrrgh.' Kids can take part in the Pieces of Eight treasure hunt, wiggle their way into a pirate shipwreck, and learn to act like a bloody pirate! Games, live music, great food and beer by Captain Lawrence Brewery of Elmsford round out the entertainment options.
The rollicking festival takes place July 4th – 7th, with timed admissions beginning at 1 pm and the last admission at 5 pm.
Tickets can be purchased for all of these Historic Hudson Valley events online at www.hudsonvalley.org/store or by calling 914-631-8200.
Ticket prices for A Night on Fire: $20 for adults and $15 for children 17 and under; $5 per ticket discount for Historic Hudson Valley members.
Animals & Acrobats: FREE popcorn when you buy online! $16 for adults, $14 for seniors, $12 for children ages 3-17. This event is free for children under three and Historic Hudson Valley members.
Ticket prices for Pirates of the Hudson: $16 for adults and $12 for children 17 and under; $5 per ticket discount for Historic Hudson Valley members.
Philipsburg Manor is located at 381 North Broadway (Route 9) in Sleepy Hollow, N.Y.
Van Cortlandt Manor is located at 525 South Riverside Avenue (off Route 9) in Croton-on-Hudson, N.Y. Take the Croton Point Avenue exit from Route 9 and follow the signs.