Through the efforts of a former and present  Ossining  mayor, Historic Hudson Rivertowns, Friends of  Sing Sing Museum, the NYS Department of Corrections, Lord Cultural Resources and the Jan Hird Pokonny  architectural firm, the Town and Village of Ossining is at work with the goal of opening a Sing Sing Museum.
The museum will look into the beginnings of the penitentiary system and also present an historical perspective of "punishment in America." It will also provide the accounts of "individual inmates, guards, superintendents, reformers and critics that will shape the collections, exhibitions, and programs of the museum."
A State-owned building just outside the walls of the Sing Sing Correctional Facility (SSCF), called the 1936 Powerhouse, will house the museum. Additionally, a section within the SSCF, called the 1825 Cellblock, is being considered; however, access to the building is "uncertain at this time."
Sitting opposite Victoria Gearity, Ossining's Mayor who will run for re-election in November, she made it clear that linking the proposed Sing Sing Museum to Ossining's downtown is a must. "This museum will be an engine for the downtown revitalization," she said. Mayor Gearity envisions connecting the museum with the historic central business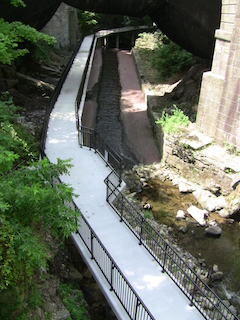 district so that visitors can spend an entire day in Ossining. She went on to say that new and attractive businesses like craft breweries and farm-to-table restaurants are taking hold in the downtown. There's also the Sing Sing Kill Greenway which allows pedestrians to walk through the ravine that the Kill Brook created on its way to the Hudson River. Gearity gave credit to Village Engineer Paul Fraioli for his vision that provided a picturesque walk for residents and visitors alike.
"I want to give people a compelling reason to visit Ossining," she noted. There seems to be more than one reason at work these days in Ossining. Gearity is prepared to promote her Village by creating a new appeal that will designate it as a "must-see" rivertown on an American Heritage River. In 1998 its
designation read, "The first great river encountered by European settlers, the Hudson flows 315 miles from the Adirondack Mountains to New York Harbor, and played a central role in the early commercial, military and cultural history of the United States."