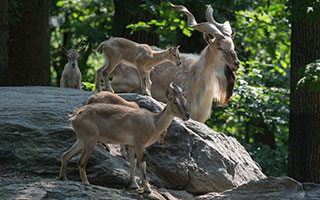 The Wildlife Conservation Society's Bronx Zoo has added a herd of endangered Turkmenian flare-horned markhor (Capra falconeri hepterni) to the expansive habitats along the Wild Asia Monorail.  The markhor is a unique species of goat found in the mountains of Afghanistan, India, Pakistan, Tajikistan, and Uzbekistan. They inhabit upper elevations, with vegetation as their food source. They are skilled climbers and will scale steep rocky terrain to escape predators such as snow leopards and wolves.
Photo credits: Julie Larsen Maher © Wildlife Conservation Society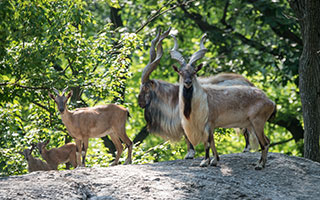 The Bronx Zoo herd consists of three adult males, easily identified by their huge spiraled horns and distinct coats; several females, which are smaller than the males and have much shorter horns; and their offspring.
In the wild, females tend to stay in small herds while the males live alone until mating season. Before mating season, the males will engage one another for the right to mate with females in a herd.
The Bronx Zoo's markhor live with a herd of Himalayan tahr, another species of Asiatic mountain goat found in areas of China, Tibet, Nepal, and northern India.
The International Union for Conservation of Nature (IUCN) classifies markhor as Endangered, with fewer than 2,500 animals remaining in the wild. Their impressive twisted horns and thick fur make them a target for trophy hunters and poachers. They are also susceptible to habitat loss from expansion of land used for domestic livestock.
With support from Save Our Species (SOS), Columbus Zoo Conservation Fund, Zoo New England, The Mohamed bin Zayed Species Conservation Fund, and other supporters, WCS has been working to save wild markhor in the mountains of northern Pakistan since 1997. Now working with 65 communities, WCS has seen a 50 percent increase in markhor populations in the last decade, with estimates placed at 1,500 wild markhor in this landscape—a significant proportion of the global population of this endangered mountain goat.
The Wildlife Conservation Society operates conservation programs throughout Asia and works with local people and governments to save wildlife, manage habitats, and incorporate sustainable agricultural practices that minimize impact on wild ecosystems.
The Wildlife Conservation Society's Bronx Zoo is open daily from 10:00 a.m. to 5:00 p.m. weekdays, 5:30 p.m. weekends from April to October; 10:00 a.m. to 4:30 p.m November to March. Adult admission is $16.95, children (3-12 years old) $12.95, children under 3 are free, seniors (65+) are $14.95. Parking is $15 for cars and $18 for buses. The Bronx Zoo is conveniently located off the Bronx River Parkway at Exit 6; by train via the #2 or #5 or by bus via the #9, #12, #19, #22, MetroNorth, or BxM11 Express Bus service (from Manhattan that stops just outside the gate.) To plan your trip, visit bronxzoo.com or call 718-367-1010. Follow @TheBronxZoo.
Wildlife Conservation Society (WCS)
MISSION: WCS saves wildlife and wild places worldwide through science, conservation action, education, and inspiring people to value nature. VISION: WCS envisions a world where wildlife thrives in healthy lands and seas, valued by societies that embrace and benefit from the diversity and integrity of life on earth. To achieve our mission, WCS, based at the Bronx Zoo, harnesses the power of its Global Conservation Program in more than 60 nations and in all the world's oceans and its five wildlife parks in New York City,  visited by 4 million people annually. WCS combines its expertise in the field, zoos, and aquarium to achieve its conservation mission. Visit: www.wcs.org; http://www.facebook.com/TheWCS; http://www.youtube.com/user/WCSMedia Follow: @thewcs.