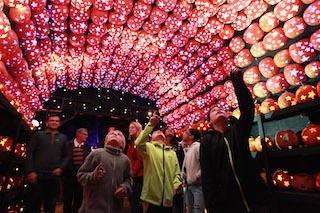 Halloween season in Sleepy Hollow Country begins earlier than ever this year – Friday, Sept. 30! That's when The Great Jack O'Lantern Blaze® opens for an unprecedented 32-night run. Horseman's Hollow, Irving's "Legend," and Legend Behind the "Legend" follow on Friday, Oct. 7, and together with the Blaze are likely to draw more than 170,000 visitors to the tri-state area's largest Halloween-inspired happenings.
Photo: The pumped-up Pumpkin Planetarium at The Great Jack O'Lantern Blaze will shine brighter than ever this season. Photo credit: Jennifer Mitchell
The Great Jack O' Lantern Blaze continues on selected evenings through Sunday, Nov. 13, at Van Cortlandt Manor in nearby Croton-on-Hudson, and is the Hudson Valley's biggest all-ages Halloween extravaganza. A small team of artists comes together to carve more than 7,000 jacks, many fused together in elaborate constructions such as a Circus Train and a Giant Spider Web, all lit up throughout the historic site's wooded walkways, orchards, and gardens.
Elaborate single-pumpkin carvings and huge multi-jack o'lantern constructions line the historic landscape. Favorite themes such as the Little Monsters and Headless Horseman are joined this year by new installations including a massive Pumpkin Zee Bridge (no construction on this one!), a dozen young dinosaurs, and a pumped-up Pumpkin Planetarium…all made of jack o'lanterns! The Blaze Gift Shop is stocked with exciting new Blaze-branded merchandise, including T-shirts, hoodies, candles, and much more.
Washington Irving's macabre tale, The Legend of Sleepy Hollow, is the inspiration behind Horseman's Hollow, a 14-night interactive haunted attraction at historic Philipsburg Manor in Sleepy Hollow, recommended for ages 10 and up. Stocked with professional actors and state-of-the-art special effects, Horseman's Hollow has a high fear factor.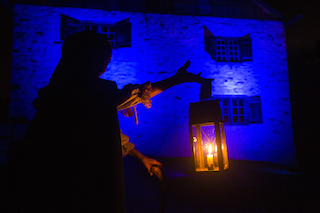 Award-winning makeup and costume designers and a 40-member cast of experienced actors create this immersive, pleasantly terrifying experience, with state-of-the-spooky-art special effects. The Museum Shop in the Philipsburg Manor Visitor Center has new Horseman's Hollow-branded merchandise, including must-have event T-shirts. The event runs selected nights Oct. 7-31.
Irving's "Legend," recommended for ages 10 and up, brings the master storyteller Jonathan Kruk into the historic, candlelit interior of Sleepy Hollow's circa-1685 Old Dutch Church, where for 14 evenings he offers a dramatic re-telling of The Legend of Sleepy Hollow accompanied by live organ music. Selected nights from Oct. 7-31, and new this year, an early afternoon performance on Saturdays and Sundays!
The Legend Behind the "Legend" is a daytime experience at Washington Irving's Sunnyside in Tarrytown that highlights the author of the famous story. Tours of Irving's home — a colorful blend of architectural styles — will showcase numerous objects related to Irving's famous story. Visitors can also enjoy a shadow puppet performance of The Legend of Sleepy Hollow and experience one of Irving's spooky tales on a walk through the woods. Enjoy this on Saturdays and Sundays in October.
Historic Hudson Valley, the Tarrytown-based non-profit education and preservation organization, creates and produces these events. All proceeds support its mission. Limited availability! Get your tickets in advance before they sell out! Tickets can be purchased online at www.hudsonvalley.org or by calling 914-366-6900.