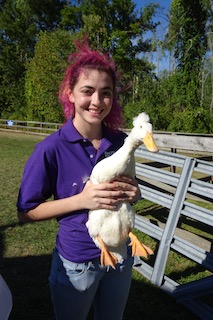 Its 2018 theme of "American Value, Hometown Roots" perfectly describes the down-to-earth, uplifting spirit that infuses the Yorktown Grange Fair. Now in its 94th year, the venerable festival is back in the northern Westchester town of Yorktown Heights Sept. 7-9.
Photo: Prize poultry can waddle away with blue ribbons in one of many contests at the Yorktown Grange fair Sept. 7-9. Photo Credit: Peggy Derevlany
Each year on the weekend after Labor Day, the Yorktown Grange Association pays tribute to its fertile history. The annual celebration of agrarian life is widely admired for its perennially popular exhibitions of champion farm animals, live music on the mainstage, old-fashioned variety acts, midway games, hay rides, a wide assortment of food and beverage, and a mile-long parade of vintage tractors, trucks and vehicles.
Neighbors and folks from all over the region compete for blue ribbons for best homegrown poultry, livestock, produce, flowers, needlework, photography, baking, Lego designs, and all-media art by ages 55 and up. Entry information is in the contest booklet online at yorktowngrangefair.org.
There also are plenty of participation activities guaranteed to put a big smile on youngsters, such as karaoke, pie-eating, watermelon-eating, and balloon-blowing.
It all adds up to a destination event that offers a cornucopia of fun activities for the whole family.
As a throwback celebration of the Hudson Valley's deep roots in farm culture, the Yorktown Grange Fair continues to enjoy a unique perch in local lore as Westchester County's most authentic agricultural and country fair.
WHUD's Kacey Will Greet Fair-goers on Opening Night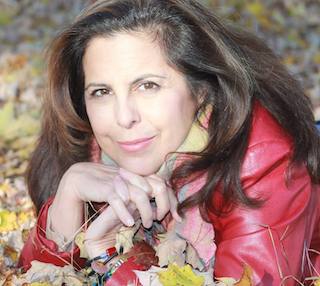 On Friday, Sept. 7, opening night of the three-day event, popular WHUD morning personality Kacey will greet fair-goers and give away prizes. Kacey can be heard on the 100.7 FM music station 5 a.m.-10 a.m. weekdays with her morning show. Sundays at 6:30 a.m., she hosts "Shine On: The Health and Happiness Show." Kacey is a certified life coach, reiki practitioner and inspirational speaker who hosts retreats for women. An avid animal lover, she lives in the Hudson Valley with her pack of rescue cats and dogs.
Spectators Along Parade Route Salute Classic Farm Vehicles
An iconic spectacle punctuates the Yorktown Grange Fair each year — the one-mile Tractor Parade at 12 noon on Saturday. In addition to tractors of all types, model years and sizes, the majestic display of antique farm vehicles includes vintage automobiles from 1900-1966 and pre-1973 trucks.
Even the junior set gets in the act with miniature replicas of the full-scale beauties. The parade always draws an admiring crowd along the Hanover Street parade route, and the vehicles are greeted enthusiastically as they enter the Grange fairgrounds.
To participate in the Tractor Parade, vehicle owners can join the formation starting at 11 a.m. in the field behind the Yorktown Heights firehouse on Commerce Street, using the entrance on Veterans Road.
Livestock Shows a Lively Family Favorite
The Grange Fair is a rare opportunity for people of all ages to admire close-up in the livestock area all manner of farm animals. The perennially popular exhibitions in the Horse Ring and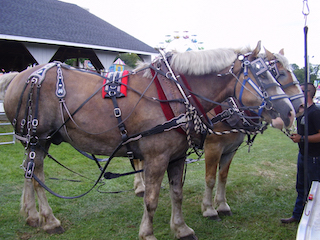 Upper Ring on Saturday, Sept. 8, and Sunday, Sept. 9, include demonstrations of oxen and horse pulling, 4-H riding, and cow, sheep, goat and horse showmanship. Elsewhere at the fair, there's a costume contest for rabbits and guinea pigs that the public can vote on.
A schedule of the livestock events is on the Yorktown Grange Fair Facebook page (https://www.facebook.com/yorktowngrangefair/). The times also will be posted each day on site in the livestock corral.
Appetizing Array of Local Food and Beverage Stands
The following local businesses (in alphabetical order) will be at the Yorktown Grange Fair offering a rich variety of food and drink. Additional items may be added to the Fair's menu.
Concessions Unlimited: Fresh Fair Zeppole, Fried Dough, Fried Oreos, Funnel Cake.
D. Bertoline & Sons: Brand & Craft Beer, Hard Cider, Wine.
Empire Concessions: Fresh Greek Gyro, Pita, Sausage & Pepper, Fresh Squeezed Lemonade.
Frankie & Augie'Z Restaurant & Vittoria'Z on the Lake: Pizza, Calzone, Hot Italian Wedges, Mozzarella Sticks.
Grand Central Market: Hamburgers, Hot Dogs, Corn Dogs, Nachos, Wedges.
Great Cape Baking: Fresh Cut, Homemade Donuts.
Mister Softee: Fresh Soft Ice Cream, Sundaes, Shakes.
Sack of Spuds: Fresh Cut French Fries with Lots of Toppings.
Tony's Fresh Assorted Seafoods: Shrimp, Clams, Calamari, Corn on the Cob, Chicken Fingers.
Grange Cafe: Waffles on a Stick, Baked Goods, Coffee, Tea.
Refreshing Italian Ices.
Fair Facts & Figures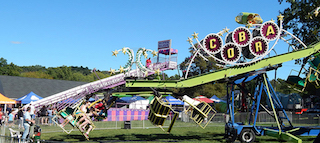 Ticket prices for Yorktown Grange Fair are as follows, payable at the gate: General admission — $8; adults 62 and over, children 11 and under, and all students with valid school ID — $5; children under 2 — free.
Sold separately inside the Fair are tickets for the midway rides, which can be bought per ride, or as all-day wristbands for unlimited rides, which start at $25.
The 2018 Yorktown Grange Fair is open 4-11 p.m., Friday, Sept. 7; 10 a.m.-11 p.m. Saturday, Sept. 8; and 10 a.m.-7 p.m. Sunday, Sept 9.
Grange Fairgrounds are at 99 Moseman Road, Yorktown Heights, N.Y. 10958.
More information is online at YorktownGrangeFair.org or by contacting the Fair office at FairOffice@optonline.net or (914) 962-3900.