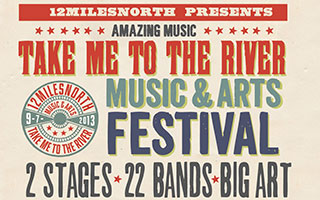 The arts organization 12MilesNorth is proud to host our 7th annual Take Me to the River Music & Arts Festival in Hastings-on-Hudson's Draper Park on September 7th.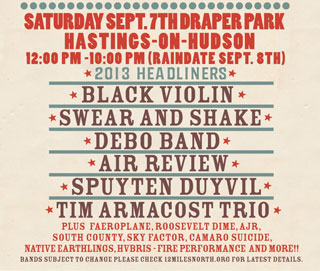 The Take Me to the River Music & Arts Festival combines nationally acclaimed hip-hop, bluegrass, jazz, world, folk, Americana, and indie-rock music with the intimate feeling of a backyard BBQ.  This "boutique-style" event offers outside-the-box art installations and activities, showcases a wide selection of local eateries, and promotes environmental awareness with Practically Green, an eco-expo of area green groups and businesses.
Liz Sipes Liebeskind, director and co-founder says, "The multi-generational nature of this festival makes it a special event for the town. We give it that DIY flavor, so there really is something engaging for everybody, whether you come alone or bring the whole family. The Children's Area and many of the art installations are fully interactive, so there's tons of room for 'audience participation.'  It's a celebration of the creativity of the entire community."
This year's performers include Black Violin, Outernational, Swear and Shake, Debo Band, Air Review, Spuyten Duyvil, Tim Armacost Trio, the HVBRIS Fire Dancers, and 20 more! 
Barbara Prisament, co-organizer, adds: "In terms of depth and breadth of musical styles, this year's lineup is our best yet. Our main-stage artists have played at major music events all over the world, and our solar-powered second stage features a wide range of alternative and rock bands from the region, as well as talented musicians from area middle and high schools."
Located in Hastings-on-Hudson, the festival is a short train ride from NYC on MTA's Hudson Line. There is free parking at the train station, and a free shuttle to the park, which is four blocks up Washington Avenue.
Gates open at noon.  Bring your picnic blanket, extend the summer vibe and enjoy some amazing music and art!
Advance tickets can be purchased at www.12milesnorth.org for $18.  Tickets at the gate are $25.  Kids 10 –17 are $5.  Kids under 9 are free.  Seniors and College Students are $10 with ID.
For more information, visit us on Facebook, check out our official event page, or use the contact info below.