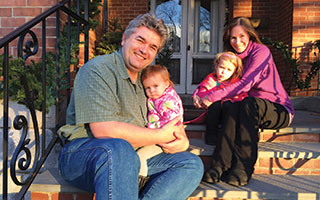 For the past several Decembers River Journal has thought about the people in the communities we serve and the people who serve our communities. The latter group have been acknowledged and 2014 is no exception. We have, and always will, think of the Tarrytown Music Hall as a gemstone on Main Street.
Saved from a wrecking ball in the 1980's, the former grandeur of the Music Hall at that time was just that – former. The roof leaked, the plumbing was ancient, the electrical system generated very little in the form of sustainable power, and to make matters equally debilitating, Village government "back in the day" was anything but theatrically inclined and definitely not supportive.
At right, Björn Olssen, Lily, Linnea & Karina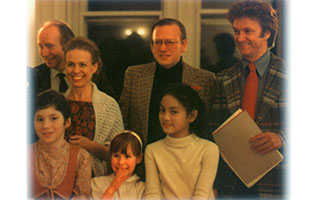 Along came a man named Berthold and his wife, Helen, both of whom had a passion for the arts. Berthold Ringeisen was a professor of Humanities and Languages at Marymount College and actually spoke ten languages. Helen Ringeisen was a piano teacher and the Director of the Mozartina Musical Arts Conservatory in Tarrytown, which trained dancers, singers and musicians. Husband and wife had watched, on the big Music Hall screen, Dr. Zhivago numerous times and the love affair on film carried over to a love affair for the building itself, that was filled to the wings with history and heritage. Teddy Roosevelt had once "stumped" there. Floral shows graced the Hall long before there were foldable seats and a big screen. Roller skating events provided indoor recreation "way back when."
To shorten the introduction to three paragraphs, Berthold and Helen, along with The Friends of the Mozartina, purchased the Music Hall and put their home and Helen's  savings on the dotted line as collateral. On Valentine's Day 1980 Stephen Byelick, a Tarrytown banker, gave them the loan  that has preserved Westchester's oldest working theatre  —  a magnificent architectural piece in the Queen Anne style, built by local chocolatier, William L. Wallace, in 1885.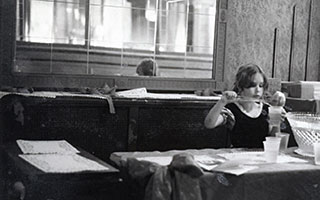 Enter Karina Ringeisen, Berthold and Helen's only child, who grew up in the Mozartina setting and took her first ballet class at 4 ½. "As early as I can remember my parents were always working at the Music Hall. There was so much to do and very little money [to do it with]," she said.  As years moved forward she talked about being at the theatre day and night when she wasn't in school. "I would arrange seats to sleep on and even slept on the floor while my mother and father cleaned and made repairs at the theatre."
When the time came to choose a career Karina Ringeisen chose dance and singing, and was accepted into the Boston Conservatory Musical Theatre program. She went on to perform professionally in Carousel, Meet Me in St. Louis, Annie Get Your Gun and also traveled regionally where the next chapter of this story opens.
It was during a musical revue that she met Björn Olsson, from Gothenburg, Sweden. He was a singer who had performed at the Gothenburg Opera House for ten years. He had played the role of Raoul in Phantom of the Opera and had performed it in four different languages, traveling through Europe. He was set to have a lifetime contract with the Opera House when life intervened, and by his own admission, "Karina and I have not been apart from the day we met." What he did not know was that the Music Hall was going to play a leading role in their relationship.
Together they would transform an operating budget of $130,000 annually into $2,000,000. Björn would build the Music Hall's first website. Together they would change the Hall from being a rental space with no control of how often it was used and for what purpose,  into a full-time venue with its own box office and online ticketing capabilities. The 843-seat theatre that had initially served between ten to fifteen thousand children and adults would now boast eighty-five thousand attendees annually and growing. From 1980-2002 Helen and Berthold never paid themselves for cleaning, running concessions, box office operations and taking out the garbage. In 2003 Karina and Bjorn were the first to take part-time paid positions, and well-deserved at that.
"This theatre is a magical experience and as beautiful as any," Björn said. Karina had always known that to be true. Together their energies connected them with "the right people to work with." They knew instinctively that performing onstage was quite different from performing offstage and that if the Music Hall was to survive they would need all the skillset of theatre owners and producers to keep it solvent. They began a relationship with Steve Lurie of "Music Without Borders" three years ago. Steve is now the Artistic Director of the Clearwater Festival. Bjorn became a Board Member of LHAT (League of Historic American Theatres). They sought grants and funding for both interior and exterior repairs and multi-million dollar work is being conducted as this story is written. They have increased the number of volunteers essential to the smooth operation of any performing Hall. They have technical people on staff to monitor and create necessary lighting and sound. Reinforcing all this effort is a dedicated Board, a strong membership and generous donors. Kent Sheng, a Board member, gave $60,000 in 2013 and asked that money be used for the donor lounge dedicated to Helen and Berthold Ringeisen. A beautiful plaque has recorded his wish.
As the Music Hall readies itself for a 130th Anniversary in 2015 we cannot forget all things young. Karina and Björn have two lovely daughters Linnea and Lily. Karina wants more children, but that's another story. For now, this dynamic and committed couple continue in Berthold Ringeisen's footsteps who was fond of saying, "We go forward, what else can we do."
To Berthold's memory, his lovely wife Helen, Karina, Björn and two adorable children, a note of gratitude and a high note of recognition in 2014.