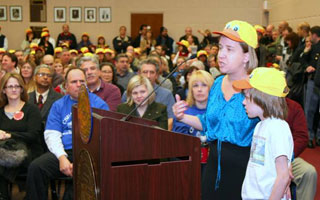 White Plains, NY – Over 300 people attended last night's public hearing on County Executive Robert P. Astorino's Proposed 2013 Budget, which was held in the Vincent F. Nyberg General meeting Room at the Town of Cortlandt's Town Hall in Cortlandt Manor. The hearing, hosted by the Westchester County Board of Legislators (BOL), took place under the auspices of the BOL's Budget & Appropriations Committee, chaired by Legislator Judy Myers (D-Larchmont).
Above, Child care supporter Patricia Morgan with her son James at last night's public hearing on the 2013 Budget (Photo credit: Westchester County Board of Legislators / Aviva Meyer)
As with the first budget hearing in Mamaroneck last week, county residents lined up to address the attending BOL members with a universal message: Astorino's proposed budget, which will cut important programs for parks and youth programs while also eliminating all funding for neighborhood health centers, will hurt Westchester both short- and long-term.
The last public hearing that the BOL is hosting on Astorino's Proposed 2013 Budget is Wednesday, December 5 at the Westchester County Center in White Plains. The hearing, which draws the largest attendance by far, is set to begin at 7 PM. Meanwhile, open, public discussions with County department heads and other staff members continue at BOL Budget & Appropriations Committee, which began the day after the 2013 budget was first presented to the BOL on November 14; will continue next week. The meetings were streamed live and are archived on the BOL website, www.westchesterlegislators.com.
A larger contingent of child care advocates and daycare professionals, plus parents with their children, attended the public hearing in Cortlandt Manor, and many of them addressed the BOL members to protest the decrease in County support for subsidized child care programs in Astorino's Proposed 2013 Budget.
Among the child care advocates who spoke was Steven Wysmuller, a Goldens Bridge resident who is a board member and past president of the Mount Kisco Child Care Center, as well as a board member of the Child Care Council of Westchester.
"When child care is consistent, developmentally sound, and emotionally supportive, there is a positive effect on the child and the family," said Wysmuller. "If children are exposed to a poor-quality environment, they are less likely to be prepared for school. Quality child care delivers many benefits to workers, their children, employers, taxpayers and the regional economy. A strong, affordable, quality child care system is as much a part of the community infrastructure as roads and bridges."