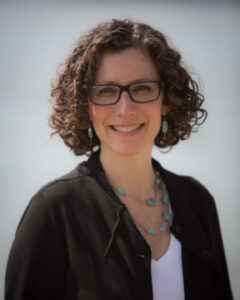 The death of a 10-year-old Peekskill student in May has focused a spotlight on the issue of bullying in public schools and the tragic consequences that can follow.  
The child's parents have charged the school district with failing to respond to their numerous complaints about their son being bullied in school. The district has responded that they did address the complaints but cannot comment further due to privacy laws. 
A preliminary ruling by the Westchester County Medical Examiner's office concluded that the boy died of accidental asphyxiation pending further investigation. The parents say he killed himself because of the bullying he suffered in school. 
What role can a school district play in protecting the students in their care from the danger that bullies present – and how are those administrators held accountable for what happens in their buildings? 
New York State's Dignity for All Students Act (DASA) was signed into law Sept. 13, 2010 and took effect July 1, 2012. Its goal is to provide public elementary and secondary school students with a safe and supportive environment free from discrimination, intimidation, taunting, harassment, and bullying on school property, on school buses, or at school functions. The act requires districts to report annually on incidents in their schools. 
*** 
Section 100.2 of the Regulations of the State Chancellor of Education (Commissioner's Regulations) defines a reportable material incident, in part, as "a single verified incident or a series of related verified incidents where a student is subjected to harassment, bullying, and/or discrimination by a student and/or employee on school property or at a school function."  
According to the Chancellor's Regulations, an incident is deemed material if, following an investigation by the school, it is determined that the student's actions created a hostile school environment for another student.  
One intention of the DASA law was to have each school district in New York State report the number of bullying incidents in their district each year. Districts that compile high numbers would then be reviewed by the state. 
But looking at the numbers in those reports each year (see chart) raises serious questions about the accuracy of districts reports and whether the law is having any impact on reducing bullying in schools.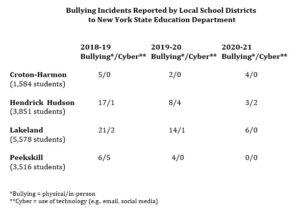 The Peekskill City School District reported six incidents of bullying and five incidents of cyberbullying in the 2018-19 school year in a population of 3,465 students. In the 2019-20 year, the figures were four and zero; and in 2020-21 there were no reported incidents (with students studying remotely during Covid restrictions). 
*** 
The New York State Education Department (NYSED) told River Journal North that reporting of bullying incidents is being underreported. 
"Dignity Act reporting has declined significantly since 2013, with many schools reporting zero incidents for several years in a row. In the 2021-22 school year, over 1,800 schools reported zero Dignity Act incidents," JP O'Hare, a spokesperson for NYSED, said in an email. 
He added, "Based on the definition of bullying, harassment, and discrimination and what we know to be taking place in schools across the state and the country, it is unlikely that schools would have zero incidents and especially not for several years in a row." The state database includes reporting by 2,887 schools. 
The state offers examples of which incidents should be reported by the district. In one example, when a group of kids was getting off the school bus, Student A heard someone say, "You smell and you are ugly." At home Student A began taking showers three times a day and cut her hair. When student A's mother asked why she cut her hair and was taking extra showers, she told her mom about being called smelly and ugly on the bus. Student A did not know which student had spoken to her. The state says this is reportable because the bullying occurred on the school bus and was negatively affecting Student A, even when the offender is unknown. 
*** 
Whether school districts actually report such incidents (as in the above example) is a question the state comptroller's office examined in a 2019 audit report of New York City schools. 
"[State] Comptroller [Thomas] DiNapoli's auditors found during visits to 25 schools that incidents were not always recorded in the [Department of Education's] database because staff differed on when something had to be reported," the audit states.  
"For example, staff at some schools told auditors that incidents were only reported if there was a physical fight, that behavior had to occur three times to qualify as bullying, that an incident might be minimized to protect a college-bound student and that only certain incidents were reported because recording all the incidents between students was too onerous." 
The State Education Department tells River Journal North it is instituting a new policy to ensure compliance by school districts on reporting bullying incidents. 
"To help us determine the reasons for zero incident reporting and develop guidance and technical assistance to address it, NYSED's Office of Student Support Services staff is planning to conduct an inventory of sample schools that reported zero Dignity Act incidents for three years in a row (excluding 2020-21 due to pandemic closures)," O'Hare wrote in an email. 
*** 
"The result will be guidance and trainings for all schools and districts that address the reasons for zero reporting, underscore the benefits of accurate reporting to schools and the families they serve, and including how to use Dignity Act incident data to improve school climate and reduce bullying." 
The topic of oversight of bullying by the state has caught the attention of State Assemblywoman Dana Levenberg. 
"My office is learning more about this issue," she said. "I have reached out to the school district and our Regent as well as the NYS Commissioner of Education to see what the needs are and how we can better support our families and schools to ensure physical and psychological safety for all students.  
"This year's state budget also includes additional funding for mental health supports, and I am hopeful that this will also help." 
None of the five local school districts returned a request for comment.  
Any parent who has concerns about bullying incidents in school involving their child should reach out to the school's designated DASA coordinator and file a written complaint. The parent must be informed of the outcome of their complaint.
Bully Pulpit 
According to national advocacy group Stomp Out Bullying … 
1 of 4 teens are bullied

9 of 10 LGBTQ+ students experienced harassment at school and online

5.4 million students stay home on any given day because they're afraid of being bullied

1 of 5 kids admits to being a bully, or doing some bullying

80% of the time, an argument with a bully will result in a physical fight

1/3 of students surveyed said they heard another student threaten to kill someone

Playground statistics — every 7 minutes a child is bullied > adult intervention 4%; peer intervention 11%; no intervention 85%.