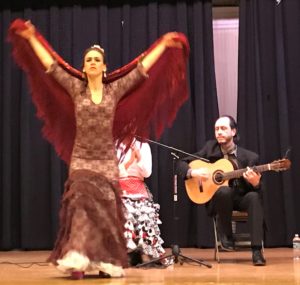 First grade students from Tarrytown's W.L. Morse discovered the art of flamenco dancing as they watched professional flamenco dancers from Flamenco Olé and moved to the music. 
The District's FLES (Foreign Language in the Elementary School) program provides Spanish foreign language and culture classes to elementary school students from kindergarten through third grade. 
"This is a vibrant way to teach the students… and it opens up a window into a different culture," said flamenco instructor Rebecca Thomas who uses Spanish throughout the lessons. 
The Foundation for the Public Schools of the Tarrytowns provided a grant to bring the group to the school. All first-grade students will receive three flamenco lessons in class. 
Thomas, Sol "La Argentinita" and guitarist Rafael Brunn demonstrated many dances including "Palmas" where they emphasized the clapping of hands, and "Alegrias", which uses a shawl to express movement.