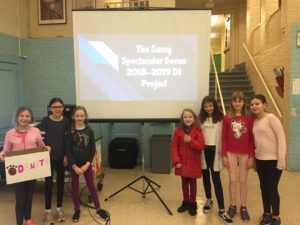 A group of seven Main Street School fifth-graders, all members of the Sassy Spectacular Seven Destination Imagination team, are educating their peers about animal abuse and the responsibilities of adopting a pet. 
Principal Joyce Chapnick noted that "They are setting an example of how our students can take action to bring about change."  
As part of the service learning project, fifth-grade students organized fun, pet-related activities for each day of Animal Care and Adoption Project Week, held January 14-18. They hosted an informative assembly about animal abuse and the responsibilities of adopting a pet; brought in pictures of their pets to display on a bulletin board; took their favorite stuffed animals to school; participated in a pet-themed danceathon; and dressed up in animal costumes or accessories.  
The seven team members aimed to raise awareness about animal abuse and teach others proper pet care including how to feed your pet; keep it clean, healthy and exercised; be kind to it; and socialize it with other animals. They reminded their peers that owning a pet should be a lifelong commitment.  
"We hope the whole community will benefit from our project so that they can spread the word about what we are teaching them," the students said.  
They raised money and held a pet drive for the Paws Crossed Animal Rescue in Elmsford and the SPCA of Westchester in Briarcliff Manor.