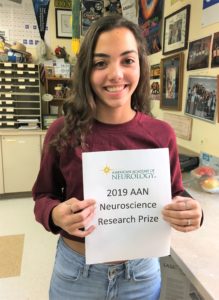 Ossining High School senior Sabrina Piccirillo-Stosser is one of 12 national finalists for the 2019 Neuroscience Research Prize, sponsored by the American Academy of Neurology and the Child Neurology Society.
Piccirillo-Stosser, who is in the OHS Science Research Program, has spent the past two years investigating genes and potential drug treatments to mitigate the impact of aging on brain function. The research, which she did at the Icahn School of Medicine at Mount Sinai, has direct implications for dementia and Alzheimer's disease. She is thankful to her mentors at Mount Sinai.
The Neuroscience Research Prize recognizes high school students whose talent in the sciences indicates potential for significant contributions in neuroscience. A panel of physicians and scientists will select four prize winners through two rounds of competition.