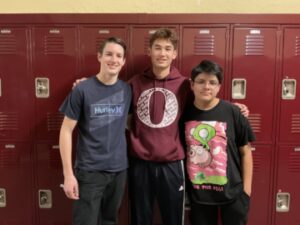 Ossining High School students Luke Zebelman, Michael Guzman, and Jonathan Kang have been accepted to the Westchester County School Music Association (WCSMA) All-County Jazz Ensemble.
Additionally, OHS students Katlyn Perez and Elena Jones were accepted into the WCSMA All-County Intermediate Chorus; 6th graders Sara Daza Grisales and Stevie Steinvurzel were accepted into the WCSMA All-County Intermediate Chorus; and 5th grader Elizabeth Macdonald has been accepted into the WCSMA Elementary All-County Orchestra.
WCSMA, a county unit of the wider New York State School Music Association, provides opportunities for advanced students to participate in All-County Honor Bands. Participation is selected through a rigorous audition process.
"I am very proud of the Ossining Jazz Program, which starts in elementary school, and of our exceptional students for being accepted into the All-County Jazz Ensemble," said Kate Matthews, Director of Cultural Arts for the Ossining School District. "These students exemplify the goals of our Jazz Program, which is to develop improvisational skills based on a strong musical foundation within a cultural context."
Named "Best Community for Music Education" by the NAMM Foundation each year since 2011, Ossining School District exposes students to a wide variety of musical styles at an early age; from western classical music to traditional folk melodies of various cultures, as well as various styles of popular music. Students gain experience in singing and playing instruments throughout the curriculum.
As part of the honor, Luke, Michael, and Jonathan will be performing in the WCSMA All-County Jazz Festival on March 17. The festival features music from select regional High School Jazz Bands comprised of the finest jazz students from around Westchester County, chosen by audition.