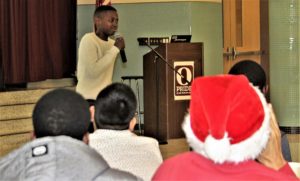 The Ossining School District recently launched a My Brother's Keeper (MBK) program, joining a nationwide initiative founded by President Barack Obama in 2014 to address opportunity gaps for boys and young men of color. 
Dozens of families attended the kickoff event at Anne M. Dorner Middle School (AMD) on December 13 to celebrate local organizations and community members that are supporting the initiative. A total of about 70 boys at Roosevelt School, AMD and Ossining High School are in the program.   
Artist, dancer and stunt man Wadi Jones, who graduated from OHS in 2004, urged the boys to pursue what they enjoy and love, and to remember the importance of mindset, motivation and message.  
"I wish I had this kind of support system when I was coming up in school. You guys have something amazing," said Jones. 
Obama created the program to connect boys with mentors and support networks and help them obtain skills for the workforce and college. 
Seventh-grader Gavin Thomas-Walters credits MBK with giving him a positive mindset and the ability to "look forward to the better things and not be a pessimist but an optimist, and to work as hard as I can to do everything I want to do."  
The district's MBK partners are Neighbors Link; the Ossining Public Library; the town and village of Ossining; Star of Bethlehem Church; the Ossining Police Department; Home Run Against Drugs; Ossining Parents Advocating Collectively for our Children (OPACC); and ENU (Empower, Network, Uplift) and associated organizations Project 105 Athletics and ArtinaBoxCo.