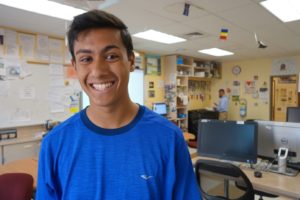 Ossining High School senior John Sukumar recently received a Rising Scientist Award from the Child Mind Institute and the City University of New York for his research on attention deficit hyperactivity disorder, generally known as ADHD.
On October 18, the Child Mind Institute and the CUNY Graduate Center's Advanced Science Research Center recognized students who show exceptional promise in the fields of child and adolescent mental health and/or pediatric neuroscience. Sukumar was one of five high school students from the region to receive the award which includes a $2,000 college scholarship. Outside of academics, Sukumar is on the cross-country, winter and spring track teams.
The recipients show "drive, commitment and vision for the future of mental health and neuroscience," said Dr. Harold S. Koplewicz, the Child Mind Institute's co-founder and president.
Sukumar's research in the school's Science Research Program is on the ability of some people with ADHD to "hyperfocus" on a topic or activity without getting distracted. He explained that while it is common for people with ADHD to have trouble focusing, hyperfocusing runs counter to the typical symptoms, and is therefore poorly understood and often underrepresented.
While a sense of urgency and a challenging task are commonly observed in inducing hyperfocus, this has been seen only anecdotally without research to back it up.
Sukumar, who has attention deficit disorder and can hyperfocus, anticipated that people with hyperfocus would outperform those without the ability as the test became more challenging. Though his results were slightly inconsistent, the scores demonstrated that hyperfocusing strongly correlates with ADHD.