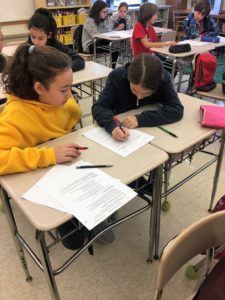 Seventh-graders writing personal narrative stories in Tom Sandler's and Caroline Knudsen's English language arts classes at Irvington Middle School collaborated with their peers to polish their writing. 
Working with partners, the students read each other's essays, provided constructive feedback, and shared ideas and advice. They also practiced revision and editing strategies. 
Sandler noted that the students explored strategies such as pacing, inner and outer voice, figurative language, dialogue and identifying simple, compound and run-on sentences. 
"…The students put their skills to good use by utilizing an editing checklist to further push the thinking and writing skills of their peers," said Sandler.  
The learning experience encouraged the middle schoolers to be constructive in their criticism and always respectful, kind and open-minded in the process.  
"We look forward to reading the final published writing pieces and are proud of the work that has been done," said Knudsen.