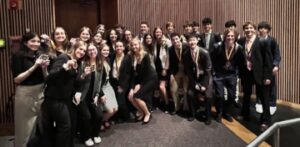 Irvington High School students participated in the Westchester DECA Regional Competition at Rockland Community College. Students participated in individual and team events showcasing their skills in finance, marketing and entrepreneurship. Several students qualified for the medal and an invitation to the DECA State Competition, which will be held March 8. Ten students will be attending the state competition in events that include entrepreneurship, business finance, business law and ethics, and human resources management.
DECA prepares emerging leaders and entrepreneurs for careers in marketing, finance, hospitality and management in high schools around the globe.
The following students qualified for the state competition:
Kenna Bradley*
Sienna Donoian
Benjamin Hymowitz
Sarah Hymowitz
Mathew Jacoby*
Claire Johnson
Lila Juenger
Tane Kim*
Ilona Marinopoulos*
Luke Mitchell*
Abigail Musman*
Joanna Paul
Nicola Paul
Alexandra Pollack*
Jared Rodnick*
Clio Salles-Spar*
Ava Warner*
*Students attending the competition.