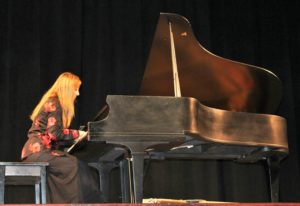 The fingers of internationally known musician Katya Grivena danced across the keyboard on February 11, as she performed for Sleepy Hollow Middle School students.
The Russian-born musician has completed 18 seasons at Carnegie Hall, traveled across the nation and the world. Still, playing at Sleepy Hollow brought her great joy. "I love bringing music to kids. The children are still very open to new experiences," she said.
Grivena didn't own a piano when she started taking lessons at 5 1/2. Her love for music grew as she attended concerts with her parents and grandmother, as did her dream to play professionally.
She shared some of her favorite pieces including Debussy's Clair de Lune, Chopin's Fantaisie-Impromptu, and De Falla's Fire Dance with Sleepy Hollow students. She encouraged them to work diligently on their passions.
"Her fingers were smooth and moved so fast," said sixth-grader Rudy Nunez, inspired to play his cello more.
Grivena was in Tarrytown to play a special Valentine's Day benefit concert at the Tarrytown Music Hall.