Creatures of romance and fairy tale, celebrated by the Japanese and mentioned in Dante's Inferno, fireflies – or glowworms, or lightning bugs – are one of nature's miracles, not to be taken lightly. Their family, called Lampyridae, includes more than 2,000 described species and the beetles' light show is a courtship display, with the males in the air using a species-specific flash pattern to grab the attention of the females on the ground, who will flash back if interested. Like so many other animals and species, they are now under environmental threat.
When Juliana Chauca, a senior year student at Ossining High School, had to come up with a project for the three-year Science Research Program she joined in her sophomore year, fireflies seemed to be the perfect subject for her studies. "I'm passionate about ecology, and also very interested in bioluminescence, plus I can study them in my backyard," she said.
The application to the research program begins at the end of freshman year, and having identified her study topic, Chauca proceeded to the interview stage and assignment. She was 15 then, and is 17 now.
Her next steps were to start on the research, and find a professional mentor. Having read scientific papers and talked to others in the field, she was recommended to approach conservationist Kelly Ridenhour who ran her own firefly community project in connection with the University of Georgia. Ridenhour said yes, and has helped Chauca by sharing her experience, and offering guidance on the questions. "But ownership is mine," Ossining-resident Chauca makes clear.
"I will do data analysis on the general abundance of fireflies, and also the variation throughout the firefly season, which is June and July. And then there are the anthropogenic factors – urbanization, artificial light, and pesticides."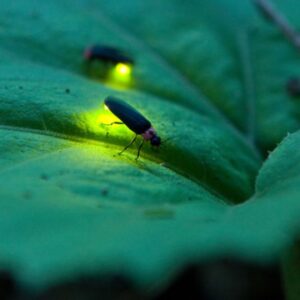 She first ran the survey last year, with some 80 participants, and hopes for at least as big a pool this year, giving her material to run a comparison.
Juliana participated in the Westchester Science & Engineering Fair (WESEF.org) this year and won second place as well as the Ricoh Sustainable Development Award. In the fall, she is planning to enter her paper in the Regeneron Science Talent Search, the nation's most prestigious high school research competition.
Says Valerie Holmes, one of Chauca's science teachers: "I think it's inspiring to see students put on the scientist hat – with support from a mentor, teachers/staff, and their parents they most certainly can advance the field and many even get published in professional research journals!  I am so proud of Juliana, earlier this year she presented her research at the Northeast Natural History Conference in Vermont."
Pet lover, keen hiker and explorer, Chauca sees a future for herself in environmental science and wildlife conservation. Meanwhile, she needs volunteers to help supply her firefly data and is inviting children and adults alike to join her community science study. "Volunteers have to select two to four clear sky nights in June and July (preferably days that are spread out) to go outside in their backyard or a nearby location at sunset and observe fireflies. Then complete a form about their observations after each night as well as about the details of the location." The closing date to volunteer is mid-July, and interested participants can either contact Chauca at the email address below, or go straight to the forms at the second link.