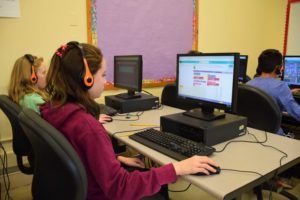 Main Street School fourth- and fifth-graders participated in a variety of coding and computer programming activities as part of the worldwide Hour of Code, a highlight of Computer Science Education Week Dec. 3-9. The school expanded the experience through December 20.
"[Our students] joined 100 million students worldwide in this experience," Principal Joyce Chapnick said. "Every 21st-century student should have the opportunity to learn computer science. The basics help nurture creativity and problem-solving skills and prepare students for any future career."
The district provided students with the opportunity to explore a variety of self-guided coding activities, including Minecraft, a popular video game that places blocks in a 3-D generated world.
"I like coding because you can make things do what you want, you can program games, and it's fun," said fifth-grader Anna Dorokhova.
"Coding and programming are great ways to learn logic and critical thinking," said Jesse Lubinsky, the director of technology and innovation and chief information officer.