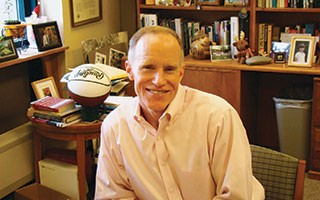 After thirty-eight years as an educator and countless miles run at 5:30 am, which he calls "the only time I own," and on to directing early morning traffic at Irvington High School, Principal Scott Mosenthal — "Dr. Mo" — will be retiring in June.
This upbeat, dedicated and helpful man grew up in Chagrin Falls, Ohio where, by his own account, he "spent part of [his] youth working at the Chagrin Falls Popcorn Shop" before attending Dartmouth College where he majored in English and minored in Education. "I knew fairly early on that I wanted to be a teacher," he said, during a recent interview. What transpired after that was one of the twists and turns in life that bring us to a place we had never thought of going to. That place for Scott Mosenthal was Irvington, New York.
"Paul Hill, the School Superintendent of Chagrin Falls, took the position of School Superintendent in Irvington, and his son was a good friend of mine. I had never heard of Irvington, New York and when I spoke with Paul he recommended that I go to graduate school because in the 1970's there just weren't any jobs available. So I started my graduate work at Brown University and in my first year Paul's son called me. A teacher had left unexpectedly in Irvington and there was a position open. I drove down and interviewed with Dick Hajek, the High School Principal at the time," Mosenthal said. It was 1975 and he got the job. The people at Brown University recommended he seize the opportunity and he did. He also continued with his graduate work with a closer commute to New York City at Columbia's Teachers College. Once again he pursued English. "So I started fresh out of the gate at age 22 in the Irvington Middle School. For me it was a match made in heaven. I loved it. It was such a great time to get into education because there were so many activities to get involved with. I played football, basketball, and baseball in high school and also ran track. At Irvington I coached the JV football team, JV modified football, JV basketball and then I assisted Peter Oley with the track team."
Mosenthal went onto receive his Doctorate in Curriculum and Instruction from Columbia's Teachers College. About eight years into his position at Irvington he became a Chairperson, which at the time was equal to an Assistant Principal. "Dick Hajek had become a dear friend and a wonderful mentor to me," he added. When Hajek decided to retire in 1997 he told Mosenthal that being the Principal of Irvington High School would be a great position for him. "I was very happy teaching and coaching and certainly had no desire to take the job as Principal at Irvington or any place else. At his urging, however, I threw my hat into the ring and got the job," he said, before adding, "For the past 40 years there have only been two Principals at the High School — Dick and me."
At that time Mosenthal was teaching a class called Peer Leadership where a group of seniors are selected to work with ninth graders, and which is a class that runs all year long and is one period a week. The seniors serve as role models and become the "go-to" people for the ninth graders for anything that happens at the High School. "I have been lucky enough to continue teaching this course even as the Principal. The other thing I was able to do as Principal, but only for a couple of years, was to coach Indoor Track. Shortly thereafter we started the whole building process and that ended my coaching career at Irvington."
Scott Mosenthal lives in Briarcliff Manor and is married with two children. His daughter Kirby, in her sophomore year, asked if she could attend Irvington, and Mosenthal said to her, "You must be crazy. Why would you ever want to attend a school that your father was the Principal of?" Well, she came and graduated from Irvington HS two years later. "She had a ball and ran track for Peter Oley and made friends that to this day are her closest friends. She is now attending graduate school in New York City and rooms with two of her high school classmates. It was great for me and I think we only had one or two rides home where she wouldn't talk to me," he said with humor that is purely Midwestern.
When asked to give a "Day in the Life Of" being a principal, Mosenthal said, "I come in around 7:20 am and check emails before going outside to direct traffic, because this hill we have here is confusing and creates problems. I have an open door policy and people come in and out of the office all day long. I'll have students come in, teachers and parents too. Whenever I have a minute I try to get out of my office and sit in on a class. We have a new evaluation system where I have to do many more observations than I have had to do in the past. Because we have a joint Middle School/High School campus I often check in with them to see what's going on. The beauty of this job is that there is something new to do every day."
When asked how education has changed over the past years he succinctly said, "It's getting a lot harder to be a kid. The testing is mind-boggling and there is a lot of pressure on them. The social media phenomenon creates issues for young people. What we're dealing with now is cyber-bullying. I just think there is a lot of stuff out there that is too much [for a high school student]. The college process is daunting. I have parents of eighth graders asking me what they need to do to position their child for the best colleges. The parallel to that is that the pressure on teachers has increased dramatically. We have this new evaluation system so they have to be evaluated a number of times a year and will wind up with a score between 0 and 100. That evaluation also includes the test scores of their students. The final numerical score that teachers receive can be given to parents. Let me say that teaching is as much art as it is science and it is not easily quantifiable. I think teachers feel a lot of pressure and that their landscape has changed in a way that they've never experienced before."
What hasn't changed for Scott Mosenthal are the "kids" he's surrounded by. "I feel blessed to be with the most amazing kids. They sail through this stuff even though some struggle and face tremendous challenges. They are resilient and wonderfully well-adjusted. Those certain kids who are less polite and have problems with authority were out there 30 years ago too. For my money I cannot be more impressed with the kids I see walk through the halls of this building. They have been my inspiration. As for the teachers, I have had the opportunity to be a part of the hiring process for over 80% of them. They love the kids and are a special pleasure to work with.
Finally, there are the parents. Yes, there are a few of them that can keep me up at night, but for the most part they are wonderfully supportive. This has never been a job as much as a calling for me. Yes things can get dark at times, like 9/11 or the Newtown shootings, but we are a community here and we share the impacts with each other and deal with the effects. There have been tough moments. We have had deaths, whether by accident or suicide, and that happens in all schools and in all communities. But then you come through that because the community pulls together, and Irvington has responded tremendously in times of tragedy."
Scott Mosenthal has always said that when the grandchildren of people he originally taught came to the High School it was time to "get the heck out of here. Irvington has felt like a home to me and my wife would agree, saying that I only sleep in Briarcliff but live in Irvington. I spend 90% of my time here." After 38 years he will graduate with the class of 2013 and retire. Not retirement in any normal sense, because he will devote more time to training for triathlons, travelling, continuing to teach at Manhattanville College — for teachers wanting to be administrators, and spending a lot more time with his wife. As a former English teacher he wants to catch up on his reading as well. And yes, he has a secret desire — to learn how to play the banjo.
At age 60, Dr. Scott Mosenthal has been blessed to follow his calling, and those fortunate to know him are aware of how full a life can be when one accepts its daily serving, whether bitter or sweet. For Scott Mosenthal it's all about community in good times and bad and Irvington has truly been his community.