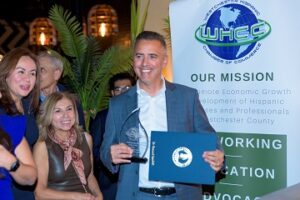 The Westchester Hispanic Heritage Chamber of Commerce (WHCC) honored several individuals at their WHCC's 2023 Hispanic Heritage Celebration on Tuesday, October 10 at Casa Fuego in Yonkers.
Since 1988, WHCC has been committed to supporting Hispanic businesses and professionals in Westchester County. WHCC offers opportunities for economic growth and job creation. Currently the WHCC supports more than 2,500 Hispanic business owners. Its members consist of a diverse range of businesses, professionals, corporate, and community partners.
The Hispanic Heritage Celebration paid tribute to Hispanics who are leaders in their fields, business owners/founders, professionals, and individuals with community impact. These distinguished individuals represent a wide range of professionals and were celebrated for their leadership and achievements that have had a positive influence on Westchester County.
Dr. Raymond Sanchez, Superintendent of the Public Schools of the Tarrytowns, was one of the recipients chosen to be honored because of his impactful role in education and his outstanding leadership. "He has passionately supported, developed and partnered on programs dedicated to enriching student learning and providing positive community impact," stated Aleida Frederico, Chair, WHCC Board. "Ray is a champion for opportunities and equity in education and a role model for all that aspire to develop and lead." Dr. Sanchez was celebrated for his vision and commitment to his field.
Other honorees included Daysi Briones, President of IQ Contracting, Inc. & Associates, Francisco Mejias and Jessica Mejias, owners of Los Andes Bakery Corp., Ibanessa Soto Hogan, MBA, EA, Founder/Business Strategist and Advisor / Accountant & Tax Practitioner of Masterpiece Accounting Services LLC., Blanca P. Lopez, Commissioner of Planning Westchester County, and Dr. Maday D. Gonzalez, MD, Interventional Cardiology at Montefiore Forme Medical Center and Urgent Care.