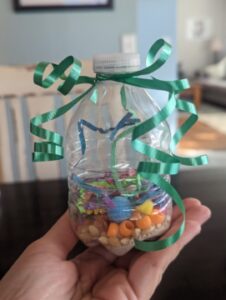 Sensory play and sensory art are big buzz words for classes and programs geared toward young learners these days and for good reason. Sensory experiences help young children explore and make sense of their world. This type of play can build vocabulary, teach cause and effect, introduce early science and math skills, and supports both gross and fine motor development. It's also a lot of fun. But before you add items to your virtual shopping cart or click that targeted ad with the pretty bins (I've done it), look around your home and chances are you'll find more than what you need to keep your little ones engaged in hands-on learning.  
Sensory play can be messy, so it is best to be prepared. We opt for a drop cloth or reusable tablecloth on our tile kitchen floor or take the learning outdoors when possible. You can also use your bathtub as a place to explore taste-safe paint (yogurt and food coloring) or water play with cups and containers. You may even want to drop in a kid-safe color dye tablet (a light sprinkling of food coloring also works) and add your favorite sea creatures for an ocean experience. If choosing to use the tub, just be mindful you are not diving into items that might clog the drain (not the place for oatmeal). 
While sensory play has always been a great go-to activity, as my son has gotten a bit older we have started venturing more into sensory style arts and crafts. Here are three easy ones you can try at home with materials you'll likely already have available: 
Sensory shaker bottle

: Colors and sounds come together when you add household items to an empty water bottle. We used leftover Easter grass, pom-poms, sand, popcorn kernels, and beads this time, but you can use anything you have on hand. Fill the bottle up part way to hear sounds when you shake, or fill it to the top to make it a "look and find." Different odds and ends will appear as you move the bottle around.

 
Egg carton flower garden

: Cut shapes from scrap paper (we opted for hearts) and paint or color these to be the flower tops. A popsicle stick in an egg carton makes for the stem and the root. Get creative with glitter, sequins, painted pasta, or stencils.

 
Birds in a nest

: A half circle of paper, or a half a paper plate, becomes the nest when you add packing paper or sticks from outside. An oval cut from scrap paper becomes the bird when you add scrunched up bits of tissue paper – an excellent fine motor activity.  Use one color or many. Add a triangle cut out for a beak and draw or glue googly eyes and your spring bird is ready to take flight.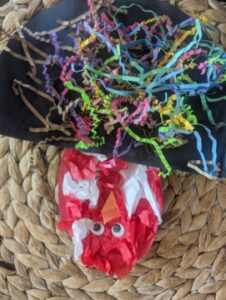 With a bit of ingenuity and a glance at your recyclables, you'll find you have plenty of items already at hand to keep toddlers and preschoolers engaged in active learning for long stretches of time. With assistance and supervision babies also love sensory play, and as we've seen from the slime craze, older children can't get enough of these soothing experiences either. Sensory play ranges in type and texture and is easily adapted to the materials available. 
All photos by Kelly Fitzpatrick. 
Kelly Fitzpatrick is a former elementary school teacher and school administrator. After the birth of her youngest she changed course to publish the family website Macaroni KID, as well as to provide support to schools as an educational consultant. She lives in Briarcliff with her husband, their three children, and an overly excitable, yet always endearing lab mix.