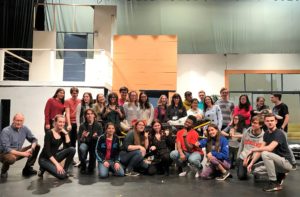 Recent visitors to Briarcliff High School may have been surprised to see local EMS staff in the district auditorium or hear sirens coming from the stage. The cast of the November production of Romeo and Juliet was preparing for a daring contemporary version of Shakespeare's classic tale.
Classic drama that allows high school students to reimagine the classic through a contemporary lens "illuminates the impact of young people taking on the mantle of universal questions through engagement with classical drama," explains Theater Program Director Ian Driver.
"We've not only had to rehearse the play," said Driver, "but the cast and crew have had to research ways in which mythical stories of magic potions and community in-fighting might be represented in a manner that reflects the students' own lives, right here in Briarcliff." Visits from Anne Castioni (EMS Liaison, Hoch Center for Emergency Education, Phelps Memorial Hospital) and Joan Lederman (BMFD EMS) led to discussions on EMS treatment of drug-related emergencies. Stage combat expert, Erik Gaden, collaborated with the cast on ways to present teenage gang violence.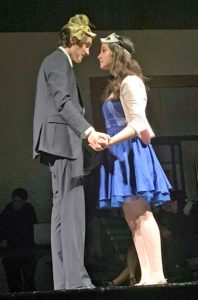 Even Juliet's potion was concocted on stage.  Senior Andrew Van Camp who plays Friar Laurence in the show said, "There are no tricks of the light, just chemistry, and there is nothing up my sleeves, just potassium permanganate in my beaker – but there is still a hint of magic."