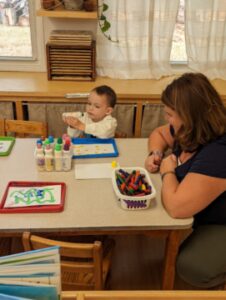 Shelves are stocked with colorful folders, new backpacks, and 2023-2024 planners. We may still be enjoying the warm days of summer, but August can also feel like the longest Sunday and before we know it, we are picking out first day outfits and taking pictures outside our homes. Transitioning from the freedom of summer to the structure of fall can be hard on everyone. Here are five simple ways to make your life easier as you get into the back-to-school groove.
Connect with a friend: If your child has been in a different setting for the summer, perhaps camp, visiting grandma, with a summer sitter, they may feel apprehensive about getting back into the usual crowd (or perhaps joining it for the first time). Combat these fears by finding a buddy to connect with by phone, zoom, or in-person in advance of the first day. If you are new to the area, many local Facebook groups can help you to find a meet-up or plan a playdate in advance of the first day. Search for your town or your child's graduation year to connect with other parents with similar aged children.
Rehearse anticipated scenarios: Have low-stakes chats with your child about decisions they may have to make or experiences they may encounter. How do you find a spot on the school bus? Will there be assigned seating at lunch? How can you jump into an existing playground game? Providing them with opportunities to practice or to hear your conversation starters can build confidence and help them to find their starting place.
Do as much as you can the night before: This is not just a first day strategy, but one that even carries teachers through the school year. Pack your lunch, go through your school bag, lay out your clothes. Mornings can be rushed, especially for working parents, parents of multiple children, or children with special needs. It is difficult to anticipate whether a case of the nerves will get the best of a child and they'll need extra time, or if something goes awry in the morning routine that sets you back. Plan for the unexpected by building backwards from your out time and doing everything you can in advance of the morning hustle.
Connect with your child's teacher: During the first weeks of school, your child's teacher may send home questionnaires or "All About Me" assignments to learn more about your child. This supports relationship building and establishes a strong foundation for learning. You can also send a letter to your child's teacher providing them with necessary information and saying a friendly hello. Joint custody? Recent loss? New baby? Big move? Having this information from the outset allows the teacher to support your child from the beginning and can be a preventative measure for miscommunication. If your child has an IEP, this may be an essential step that will help the teacher to read through the documents with a more informed lens as they were not a part of the previous year's conversations.
Focus on independence and work ethic over performance, especially in the early grades: As a former kindergarten teacher and elementary school principal, I promise you that school readiness is more than letters and numbers. It's about self-care, keeping track of your belongings, autonomy, and speaking up for yourself too. Early childhood teachers know that this is much of the work of a child at this age. Our children are learning to express themselves, navigate their environment, and relate to others. The rest will come, too.
For our early childhood families, a free printable that can help find the starting places for school readiness with your child. The printable version can be found at chappaqua.macaronikid.com/articles
Wishing you a wonderful year!