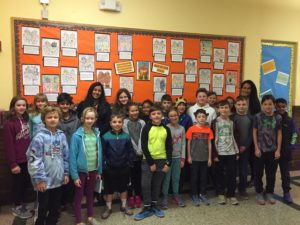 Main Street School fourth- and fifth-graders, who had been reading Amal Unbound, the story of a young Pakistani girl forced into indentured servitude as part of their Global School Read Aloud activities in October, welcomed the book's author, Aisha Saeed, to Irvington on November 5.
During the visit funded by the PTSA and organized by librarian Gayle Pulley, the author recounted her writing journey and shared her inspiration for the book.
"A school visit by an author is the bridge that connects students and teachers to the story," Pulley said. "Ms. Saeed's visit provided the students and school faculty with opportunities to gain greater awareness of the author's purpose, inspirations and writing process. The visit is one day, but the benefits span the school year and influences of a more intrinsic nature will last a lifetime."
Principal Joyce Chapnick said Saeed shared stories of real-life children who bravely effect change in their communities. The book's main character, Amal, was inspired by Malala Yousafzai, a Pakistani activist for female education and the youngest person to ever receive a Nobel prize.
Saeed's message that one person can make a difference in the world connects to Main Street School's efforts to teach students how to be good global citizens.
Students and staff members are raising money for the Malala Fund, which aims to enable girls to complete 12 years of safe, quality education so they can reach their potential and be positive change makers in their families and communities.