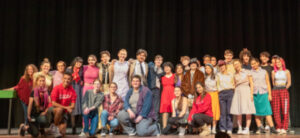 While actual gray skies may have loomed over some of the performances of Bye Bye Birdie at Sleepy Hollow High School this weekend, one glance at the audience showed how this year's musical allowed so many to 'put on a happy face' and leave smiling ear to ear.
The 21-person cast, supported by a strong student crew and student musicians, delivered four fantastic performances this weekend. SHHS senior Katie Hanley, who played Kim MacAfee and has performed in several other musicals, said that when the curtain opens it "gives her a huge adrenaline rush." 
"I love expressing my passion for music and acting and just embrace that feeling of being on stage," said Katie. "I'm always so excited to see people I know attend the performances and it makes me happy to be introducing them to theater."
Sophomore Becca Gosset took on the role of Alice as a relative newcomer to the high school stage. Conflicting obligations have prevented her from participating in past productions, but with friends being involved, she knew that she wanted to make it work this year. 
"It's a lot of hard work, but also so fun. And when we see the weeks of hard work come together, it's so worth it!" said Becca.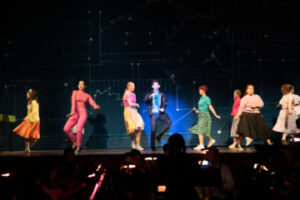 While the cast and crew are committed to putting on a fantastic show for their audience, there seems to be collective agreement that the process and experience of getting to the performances are where the real magic exists. 
"Theater, especially for younger people, is so much about growing personally while also connecting with others who share similar interests," said director Natalie Arneson. "My primary goal (as a director) is to create an experience for students that allows them to contribute and feel ownership for the production. And I want to help create an environment in which everyone, regardless of their role, feels comfortable taking risks and sharing their ideas."
Becca couldn't agree more. Commenting about those deciding to participate, she gives this advice: "If you want to try, you should because everyone here is so happy. And, if you are worried about what others may think, don't. You'll have the best time and look back and say 'I Went for it.'".
Behind the scenes, a stage crew of 11 students along with two student choreographers, made amazing contributions to creating the feel of the show and to keeping order amidst what can sometimes be 'backstage chaos.' Julian Sherry, who has long enjoyed theater but transitioned from acting to crew in high school, commented on the pride the crew feels when "a giant set, with all these separate parts. finally comes together."
As a senior who is headed to study film in college, Julian also reflected on the camaraderie created during a show. "I have a lot of appreciation for what's happened and I think it built a lot of pride and leadership," he said. "I'm happy we all came together to make it happen."
Katie, who as the performances approached was already a bit nostalgic, summed it up like this: This is an amazing community of people. Our theater group allows us to embrace what we're doing – and each other – and when we see one another in the hallway, we know we have a friend." 
The Public Schools of the Tarrytowns expresses its enormous gratitude to all those who contributed to these productions, and to those who attended the performances. We also gratefully acknowledge the support of The Foundation for the Public Schools of the Tarrytowns and The Sleepy Hollow Performing Arts Boosters.