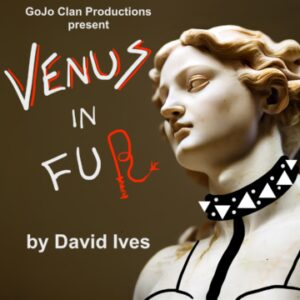 GoJo Clan Productions is bringing award-winning playwright David Ives' Venus in Fur to Ossining's Westchester Collaborative Theater Aug. 11-20.
Sparks fly and sexual tensions are heightened when an ordinary acting audition turns into a sadomasochistic game of cat and mouse.
GoJo Clan acting veteran Duane Rutter and newcomer Lydia Bottom spar for domination in the acclaimed comedy/drama,  directed by Robin Anne Joseph.
The Story
Thomas, a beleaguered playwright/director, is desperate to find an actress to play Vanda, the female lead in his adaptation of the classic sadomasochistic tale Venus in Fur. Into his empty audition room walks a vulgar and equally desperate actress—oddly enough named Vanda.
Though utterly wrong for the sophisticated part, Vanda exhibits a strange command of the material, piquing Thomas' interest with her seductive talents and secretive manner. As the two work through the script, they blur the line between play and reality, entering into an increasingly serious game of submission and domination that only one of them can win. A mysterious, funny, erotic drama that represents yet another departure for the multifaceted David Ives.
Venus in Fur runs weekends Aug. 11-20 — Fridays at 8 p.m.; Saturdays at 3 p.m. and 8 p.m.; Sundays at 3 p.m.
Westchester Collaborative Theater is at 23 Water Street, Ossining, NY 10562.
Tickets are $25 adult, $20 seniors and students, and can be purchased
HERE