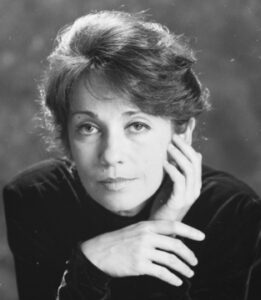 The Board of Trustees of Union Church of Pocantico Hills announced today that Simona Frenkel, an internationally renowned musician, conductor and educator, has been appointed to serve as music director and organist of the church. Frenkel's first service at the church will be on Sunday, August 20, 2023.
"From our very first interview with Simona, we knew we found the right person for Union Church," said Bob Sweeney, a church trustee who led the search committee for a new music director and organist. "She is an extraordinary talent as an organist and brings with her 23 years of rich experience as a church musician, dedicated to church work. Our Sunday service, where all are welcome and worship takes place in a beautiful sanctuary with stained glass artistry from Henri Matisse and Marc Chagall, will now be further enhanced with her remarkable presence."
A native of Ukraine who has resided in Manhattan since 1994, Frenkel began her professional career at eight with a solo debut performance at the Hall of Columns of the National Philharmonic of Ukraine. Later, she won the Concertino Praga / Antonín Dvořák International Radio Competition for Young Musicians in the Czech Republic and the Mykola Lysenko International Music Competition in Ukraine. Frenkel served as the principal organist for the Kiev Symphony Choir and Orchestra for several years, touring with the group around the world, and has won distinguished honors and awards that include Honored Artist of Ukraine. Over the years, she has performed in recitals throughout Europe and the United States, including at Carnegie Hall and Lincoln Center for the Performing Arts.
Frenkel earned master's degrees in music performance from the Julliard School of Music, Estonian Academy of Music (formerly Tallinn Conservatory) and Ukrainian National Tchaikovsky Academy of Music (formerly Kyiv Conservatory), where she also earned a doctorate in musicology. She participated in many master classes with famous organists, such as Kurt Lueders, Marie-Claire Alain and Leo Kramer.
As an educator, Frenkel was on the faculty of the Ukrainian National Tchaikovsky Academy of Music before joining the faculties of the Debbie Friedman School of Sacred Music at Hebrew Union College and 92Y School of Music in New York City, where she now teaches. In 2011, Frenkel founded Concertina New York, a chamber music ensemble, which showcases some of the finest young musicians in the New York City metropolitan region.
Previously, Frenkel served as organist and choir director at First Presbyterian Church of Yorktown, NY, and at the First Presbyterian Church of Hackensack, NJ. for the past 5 years.
"I am incredibly excited about my new position because both Union Church itself and its musical program are truly one-of-a-kind," said Frenkel. "From the beautiful organ and the stained glass windows to the church's classical tradition, it's an honor to be a part of it all. I feel humbled by the contributions of the past musicians and can't wait to bring something of my own to the mix. I have a strong intuition that this church will become my home, a place where I can freely express my spirituality, passion for music, and fully integrate into this wonderful community."
At Union Church of Pocantico Hills, Frenkel will be playing the French-style pipe organ designed by Sebastian M. Glück and dedicated in 2006 to the memory of the late Laurance S. Rockefeller, a member of the church's congregation. Notable organists Gordon Turk, Lynne Davis and Eddie Zheng, among others, have performed recitals on the church's organ. Past music director / organists at Union Church include the late Dr. Norman Smith, Samuel Chapin and, most recently, Richard Coffey.