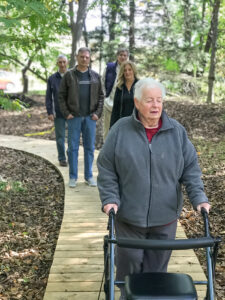 The Jane E. Lytle Memorial Arboretum has a new website that is designed to provide a richer, more interactive experience for visitors and supporters.
The following features allow users to connect with the reserve …
Sharing Vital Information
The new platform allows visitors to easily access information about the arboretum such as location, hours of operation, parking facilities, mission, rich history, and a showcase of past projects.
Site Map
Explore the arboretum with a comprehensive, downloadable map that helps visitors navigate the hiking trails and spotlights a raised boardwalk designed to accommodate visitors with impaired mobility and eyesight. This boardwalk provides a unique vantage point for observing and photographing the vibrant wetland ecosystem.
Streamlined Engagement
The website enables individuals to get directly involved in the arboretum's conservation efforts. Visitors can sign up to volunteer, become members, or make vital contributions via online donations, all at the click of a button. There also are options for paper forms and donations.
The remarkable journey of the Jane E. Lytle Memorial Arboretum began in 1994 when it started on a 20-acre, donated parcel. Initially featuring basic walking trails, the arboretum has evolved over the years into a center for environmental education projects and outdoor events. Its mission, which initially focused on promoting and protecting open space and conservation education, has now expanded to address the pressing issues of climate change through local conservation initiatives.
The Jane E. Lytle Memorial Arboretum owes its growth and success to the support of the community, local businesses, and generous visitors who have long recognized the importance of preserving this natural haven. Contributions of time and financial support are the lifeblood of the sanctuary. All donations (to Croton Arboretum and Sanctuary, Inc.) in support of this precious resource are fully tax-deductible.
Jessie Fink is Press Officer of Croton Arboretum and Sanctuary Inc.