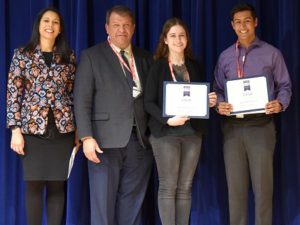 Regeneron and Society for Science & the Public recently named 40 finalists in its Science Talent Search. In doing so, the results demonstrated what people in the area already know: We're home to some of the country's best schools and brightest students. Of the high-school age finalists announced, four reside here in Westchester.  
The finalists were chosen from 300 semifinalists, or "Scholars" in the Talent Search's terminology, who came from a pool of 2,000 national entrants. 27 semifinalists came from Westchester County, including six from local high schools who were awarded $2,000 individually with an additional $2,000 given to their school's science program. These scholars were Anna-Samsara Daefler (Briarcliff High School), Jacob Dunefsky and Annie Horowitz from Irvington High School, and three from Ossining High School: Ellio Ocheltree, John Sukumar, and Emma Montgomery. Students from a dozen other Westchester communities were also selected as semifinalists. 
Ms. Montgomery now holds the distinction of being a finalist, for which she won $25,000, and next she will be traveling to Washington, D.C., where she will compete for more than $1.8 million in awards when the winners are announced on March 12 at a black-tie gala ceremony at the National Building Museum. While in the capital, she will also have an opportunity to meet esteemed scientists and members of Congress.  
"It's an amazing opportunity, and I'm so excited to travel to Washington, D.C. to meet the other finalists," said Montgomery. She also gave ample credit to those from whom she learned. "I'm incredibly grateful for all the people who helped me, especially my mentor, Dr. Dow. Without his support, I would not have been able to conduct this research or become the young scientist I am today. Ossining has two of the most amazing teachers, Ms. Holmes and Mr. Piccirillo, who coordinate and teach the Science Research Program."  
Tarrytown's own Regeneron Pharmaceuticals took over the Science Talent Search in 2017.  (Previously, Westinghouse sponsored the search from 1942-1997 before Intel helmed it from 1998-2016.) But Regeneron didn't call in any favors to get their friends' kids selected: Scholars were chosen based solely on their research skills, commitment to academics, innovative thinking, and promise as future scientists and Regeneron was not involved in judging.  
As part of its 10-year, $100 million commitment, Regeneron nearly doubled the overall award distribution to $3.1 million annually. This reflects the company's "deep commitment" to the next generation of scientists, said Potoula Gjidija, Director of Corporate Citizenship at Regeneron. She added, "We want the Regeneron Science Talent Search to be the North Star for students who are interested in science."  
That's not to say that Regeneron doesn't have a vested interest in this talent search with topics ranging this year from bioengineering to environmental science to physics. The company's co-founders and current leadership, Dr. George Yancopoulos and Dr. Leonard "Len" Schleifer, were both scholars (and George was a winner, as he likes to point out) back when Westinghouse sponsored the competition.  
"I fully expect some of you to come and take my job in a few years," joked Yancopoulos while addressing the students during a celebration of the Westchester-area semifinalists in January. 
Regeneron develops many leading drugs for treating a variety of diseases, which led Yancopoulos to share another story during his address. When Regeneron first sponsored the event three years ago, the CEO of the talent search when Yancopoulos was honored in 1976 showed up for the ceremony. Then 90-years-old, the man informed Yancopoulos that his blindness was cured by a drug Regeneron developed.  
"It is amazing that Regeneron inspires the next generation of science students through sponsoring this competition," said Montgomery, whose research into improving base editing of gene technology earned her the distinction of being a finalist. Regeneron hosted her and the other Westchester semifinalists at their Tarrytown campus, and she left the "amazing experience" with a high opinion of the company. "Their support of science education empowers us as students to pursue our scientific interests. We're lucky to have them as our Westchester neighbors."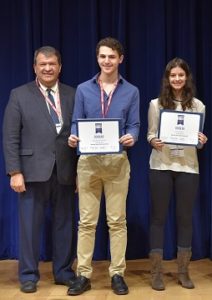 Westchester County Executive George Latimer also used the occasion of the talent search announcement to praise the "top-quality schools" in the area and the unique teacher-student relationship. "It's like a plant that has potential — you have to water it, and you have to fertilize it, and that's what's happening at a lot of these schools," he said. "My next question is what do we do about the schools that have not performed at this level. I would say that we want to make sure that the introduction and advancement of science is critical because these are the industries that are going to happen beyond my time here." 
Science Talent Search alumni have earned more than 100 of the most esteemed science honors, including 13 Nobel Prizes, 42 National Academy of Sciences Members, 19 MacArthur Foundation Fellows, 13 National Medals of Science, and 5 Breakthrough Prize Winners.
For her part, Ms. Montgomery sounds ready to fill these big shoes and even has advice for anyone looking to pursue scientific ambitions: "Don't be afraid that you don't know enough at the start, be curious, ask questions, and read as much as you can!"