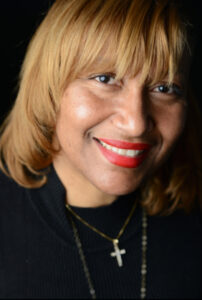 Marisol Jimenez, friend and volunteer to many, has been duly recognized of late for her contributions to the Peekskill community.
On Nov. 12 at the organization's annual Freedom Fund Award Ceremony she recieved the Peekskill NAACP/Mel Tapley Award "for the joy and energy you bring to Peekskill." The ceremony took place at the Paramount Hudson Valley Theater. There were also live performances by several entertainers, including past Peekskill Mayor Andre Rainey aka Noodle Noo, and others.
NAACP cited Marisol's work with Mount Olivet Baptist Church, Peekskill Parks Advisory Board, and Rotary Club of Peekskill, as well as collaborating with The Fern Tree, Bean Runner Café, Mayor's office, City of Peekskill, Alvin Ailey Dance Company, and many other international and multicultural events. It added, "You also assist those in the community who need help navigating English."
***
Marisol also was named by the City of Peekskill as an honoree for Hispanic Heritage Month, which ran mid-September to mid-October. As the City noted, "Marisol brings a warm personality and affectionate approach" to her many good deeds.
Other NAACP honorees on Nov. 12 include Peekskill Herald Editor Regina Clarkin, NewYork-Presbyterian Hudson Valley Hospital, Tuesday Paige McDonald of Peekskill Youth Bureau, Valerie Eaton, Ariana Okoth, Adrienne Harper, Melvin Moore, and posthumously The Reverend Jeannette Phillips.