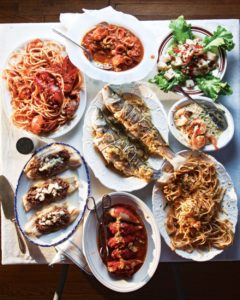 If you've just heard the title The Feast of the Seven Fishes for the first time, it's likely because while the meal acts as a bridge to Italian traditions long told, the dinner itself is in fact a relatively new phenomenon. How and why The Feast of the Seven Fishes became a Christmas Eve tradition is relatively unknown, though it's often attributed to the practice among Catholic families of substituting meat with seafood on Fridays or before a large celebratory meal. Educated guesses as to the reason there are "seven fishes" reference a few biblical events. Nonetheless, given that Seven Fishes can range from one-pot wonders to 13-course extravaganzas, it seems that this tradition is not unlike many of our other holiday celebrations; a few key dishes may anchor the evening, but the majority of details remain as unique as each family who participates.
One fish that does appear consistently is baccala, also known as "salt cod," though these days it's made from a number of white fish that have been dried and salted. When preparing baccala for finished dishes, it must be soaked in fresh water for three days or more, the water being changed throughout. One might reasonably ask, why not just use a fresh version avail-able for such occasions?  The answer perhaps provides some insight into The Feast of the Seven Fishes itself – a tie, however loose, to traditions past lies at the heart of the effort.
Since all signs point to the importance of the dinner being time spent together over favorite dishes, one might choose to lead his or her party out to enjoy The Feast of The Seven Fishes on the town. This Christmas Eve, Irvington's Mima Vinoteca will be hosting their 11th Feast of the Seven Fishes, which will include lobster, octopus, clams (see recipe), shrimp, baccala, bronzino, and calamari.
Mima Vinoteca's Baked Clams
Ingredients:
6 Cherry Stone clams on the half shell
½ cup Panko bread crumbs
4 tablespoons melted butter
4 slices of Pancetta cooked and chopped
Steps:
Preheat oven to 350º F.
Mix bread crumbs with chopped pancetta and melted butter
Season the mixture with salt and pepper
Pack mixture into clams
Bake at 350º for 12-15 minutes
Happy Holidays friends, wherever your family traditions may lead you!