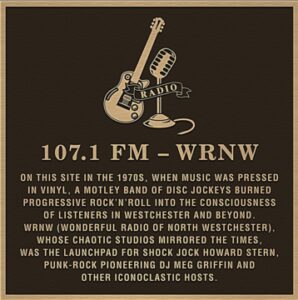 You can't put your arms around a memory, Johnny Thunders once said. But you can cast your memories in bronze. 
That's what Alain Begun's doing at the Briarcliff Manor site where a landmark progressive rock radio station once broadcast. 
Through his two companies, River Towns Music Group and River Journal, Begun's taking the lead in ensuring that the former home of WRNW-FM — which catapulted Howard Stern and Meg Griffin to fame — is not forgotten.  
The ramshackle building on Woodside Avenue where the tiny station broadcast in the 1970s has been swept away to make room for luxury apartments. 
If Begun has his way, the fancy new address will greet visitors with a bronze plaque paying homage to the crew who gave listeners their first taste of the Ramones, Sex Pistols and countless other rock'n'roll and punk icons.  
WRNW's spot on the dial — 107.1 FM — is now home to The Peak, where Jimmy Fink does a fine job carrying the torch. But WRNW's quirky, free-form style from 1973-81 gave DJs like Tom Jones, Bruce Figler and others the latitude to dig deep into the vinyl, playlists be damned. 
Griffin, a Rock and Roll Hall of Fame DJ who's now heard on Sirius XM Satellite Radio, learned her craft in what she called "that little station in the woods."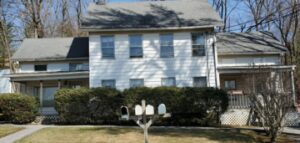 "WRNW was a glorious playhouse that enabled hopeful novice DJs to figure out who they were going to be when they grew up," she told River Journal in 2021, when plans to demolish the station's former home were announced. 
It's hard to argue the new apartments won't be an improvement over the eyesore the crumbling shack had become. But why not convey landmark status to a site that will forever be linked with rock'n'roll radio history? 
Alain's playing lead on this one, but it's not a solo act. If you'd like to join the band by contributing to the marker, visit the GoFundMe site he's created. Any funds over the $1500 needed to create and install the plaque will be donated to Music Will, which runs the largest nonprofit music program in the US public school system. Their teachers currently serve over 500,000 students in more than 600 cities and towns across the country.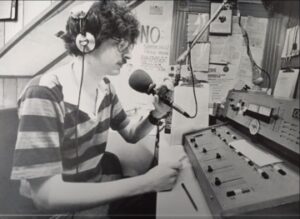 Related coverage: 
Rock to Rubble: Howard Stern's One-Time Studio Faces Wrecker's Ball 
Meg Griffin Remembers WRNW FM, Rock's 'Glorious Playhouse' in Briarcliff Manor 
Radio Days: Strong Reception – A Q&A with The Peak's Jimmy Fink