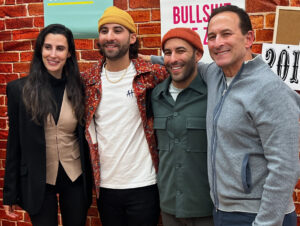 Harking back a couple of decades, Garett Press recalls gamboling about the storied playhouse and golf grounds of the Rockefeller estate in Pocantico Hills with his Briarcliff High School bud Steven Rockefeller and other classmates.
Back then, Garett was the tightknit crew's go-to pop culture guru who obligingly created emo music mixtapes for everyone. "I was known as the music obsessive person," he says. "It was, 'If you want to know the best new band, ask Garett about it and he'll burn you a new CD.' "
Flash forward 20 years, and Garett Press today is known to those same boyhood chums as the guy who has written the music, lyrics and book for a full-length musical theater comedy.
Starting Up – subtitled A Tale of Compensation and Overcompensation – is a wise and witty eyewitness sendup of a certain breed of entrepreneurial "bro" who populated and propelled the heady startup business culture of circa 2010, when the story takes place.
Garett, who runs a marketing unit at HBO Max, still keeps in close contact with that Briarcliff bunch, a number of whom have seen Starting Up in Manhattan in a showcase format designed to attract financing for a fully-formed production. "What's nice about a smaller school population," the Briarcliff High alum notes, "is that everyone stays friends."
***
Thinking back to those years, Garett reflects that "Everyone knew I was tapped into the music scene, but nobody fancied me a songwriter at that time."
The more than 20 musical numbers he's composed for Starting Up (which this writer has seen) sing with zingers and inventive wordplay that cast the stereotypical startup of the era as a fun, informal, and innovative place to work – as well as sexist, hypocritical, and self-deluding. In sum, says Garett, "a gigantic frat house." Fittingly, Starting Up plays like an immersive experience inside the frat house.
As fertile as his imagination is, Garett Press didn't make up the characters and situations out of whole cloth. He lived it, as an early participant among his generation of what he calls "the hustle culture," which, he points out, "is still happening."
He runs down the cliched gestalt of the startups he worked at, and sends up with glee – work late, play hard, intermittent fasting, PS90X workouts, be more spiritual, crush the dating scene. "The best satire," he says, "is not to be mean-spirited but just to have some fun at their expense. I wanted to comment on the kinds of gurus and larger-than-life personas rising to the surface because of technology and social media." Think of it as upstart upscale millennial media.
***
"The whole show is meant to be a Disney fairy tale for adults," says its creator, an avowed Broadway savant. "It has a lot of adult jokes littered throughout."
What kind of a journey does it take for someone to make the leap from mixing tapes for friends in high school to creating a musical comedy with Broadwayesque ambitions?
After his first jobs at a social media agency and lifestyle website, Garett "dabbled" in improvisational comedy and music, including a stint (with younger brother Troy, a Barclay Center talent booker for the New York Nets who is Garett's executive producer) at the renowned Upright Citizens Brigade improv troupe in New York City.
That's where he honed his songwriting chops. (Garett says that he doesn't read or write music – "I can't tell a G sharp from an F flat."  His process involves singing what he hears in his head into his phone, and then working with professional arranger Dan Reitz to score it.)
Garett also trained with the BMI Lehman Engel Musical Theatre Workshop, which incubated aforementioned Broadway hits Avenue Q and Book of Mormon. It's no coincidence that Garett's output stylistically echoes that of Robert Lopez, who wrote both of those shows.
***
It wasn't until Garett set out on a year-long, globe-trotting pilgrimage that the creative juices came gushing forward to birth Starting Up. For several months in 2017-2018, he found himself on the tropical isle of Lombok, close to Bali, then proceeded for the next several months to travel the so-called Banana Pancake Trail, favored by backpackers trekking through southeast Asia.
He realized the only way to complete his creation was to dispense with distractions for that period of time.
"I had wanted to put pen on paper for so long, and it just wasn't happening. My process was to lock myself into an AirBnB on the complete opposite side of the world from everybody I care about. I had complete peace of mind. You have to think by yourself for hours until you land on something worthwhile."
How does Garett feel about the comically critical portrait he's painted of his own Millennial generation?
On the one hand, as a character in the 2010 world of Starting Up declares, "Stop doubting yourself! You're a Millennial. No generation has ever been so poised to change the world."
On the other hand, looking back from where we are today, Garett says, ""Some would argue the innovation of the past 10 years in tech has broken the world instead of fixed it."
Well, then, to use an old Baby Boomer expression, maybe laughter really is the best medicine.
Bruce Apar is Editorial Director + Associate Publisher of River Towns Media.