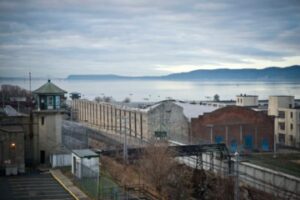 Ossining's state representatives have expressed their concern to state officials following allegations by prisoners at Sing Sing Correctional Facility that they were viciously beaten by guards during a prisonwide search last fall. 
The allegations are contained in a lawsuit filed on behalf of 26 prisoners at the men's maximum security facility on Hunter Street in the village, with more prisoners expected to be added to the complaint, said Danielle Muscatello, an attorney with Barket Epstein Kearon Aldea & LoTurco, the law firm representing the prisoners.  
The lawsuit, filed Jan. 30 in the state Court of Claims, is seeking $500,000 for each prisoner named in the action, totalling $13 million, for what it called "a campaign of concerted and vicious gang-assaults on dozens of prisoners." 
The legal action claims that from Nov 7-10, 2022, prison guards and members of the Correctional Emergency Response Team (known as CERT) forced prisoners "to strip down to their underwear, after which they were beaten mercilessly with hands, feet, and/or weapons. The gang assaults were degrading atrocities and reflected an entirely unreasonable use of force." 
At least seven prisoners were hospitalized and more than 20 others were taken to a medical unit. The allegations have prompted an investigation by the U.S. Attorney's Office and the FBI, according to lawyers for the plaintiffs. Neither state or federal authorities have commented on the accusations. The state's response to the lawsuit is due in April, Muscatello said. 
"What goes on inside our prisons remains largely invisible and insulated from public scrutiny, as so many of our sentenced men and women are forgotten. This has to change," Muscatello stated, adding: "We have to do better. And it starts with visibility and accountability." 
Shortly after the lawsuit was reported, State Assemblywoman Dana Levenberg called the allegations "very disturbing and must be fully investigated," in a Twitter post. "If they are found to be true, the people responsible should face strong consequences. Those we entrust with ensuring public safety must be accountable for following high standards of conduct while doing so." 
Levenberg, an Ossining Democrat who sits on the Assembly's Correction Committee, has spoken to the committee's chair, Erik Dilan. No discussions about the lawsuit had been announced by the committee as of March.  
State Sen. Pete Harckham, whose district includes Ossining, sent a letter to the acting commissioner of the state Department of Corrections expressing his concerns and requesting a meeting. The senator, a Democrat whose district also includes the Taconic Correctional Facility for women in Bedford, had not heard back from the state, Harckham's communications director, Thomas Staudter, said in March. 
Sing Sing has a prison population of 1,341 individuals ranging in age from 21-75, with a staff of 770, according to the state prisons website.