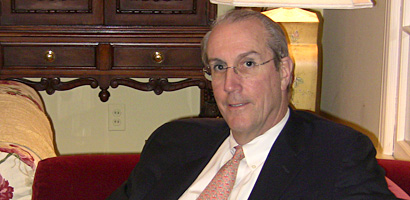 For many, Westchester has become the County synonymous with ever increasing governmental spending, rising taxes within villages, school budgets that continually spiral upward and a cost of living second to none.
In the best of financial times (remember those?) resident taxpayers took these decreases from their personal wealth as business as usual, complained about how things were getting out of hand, wrote out the checks and got back to their lives.
Last November approximately 58% of voters cashed in their complaints at the ballot box and Rob Astorino became Westchester's newest County Executive. His campaign of too much taxation and a glutted County government helped elect him.
He chose as his Chief Operating Officer, a long-standing Tarrytown resident, Kevin Plunkett. We recently sat down with Mr. Plunkett to discuss his background and the responsibilities he's inherited.
R.J. Your roots in Tarrytown go back a number of years, do they not?
K.P. I was born in New York City and at age 1 my parents moved to Altamont Avenue in Tarrytown, where I was raised.
R.J. Where did you attend school?
K.P. I went to Transfiguration grammar school and graduated from Archbishop Stepinac High School in White Plains in 1967. From there I attended The College of the Holy Cross, (class of 1971) and received my law degree at Stetson University College of Law in Florida in 1975.
R.J. What types of law have you specialized in?
K.P. I started my career as an Assistant District Attorney in Westchester, which obviously was criminal law, and tried a number of felony cases for the 4 years I worked there. Since that time I have been in private practice and have represented governmental entities, municipalities and school districts.
R.J. In addition to having been the Village Attorney for Tarrytown, what other municipalities in Westchester have you represented?
K.P. In 1984 I was named the Village Attorney in Irvington and remained in that position until April of 2007.
I served under four mayors during that time. In Dobbs Ferry I was the Village Attorney from April 1989 through August of 2009. I have also served as Village Attorney for Mamaroneck, and as Corporate Council for the City of Rye. I resigned the position at Rye this past December when County Executive elect Astorino asked me to be his Deputy County Executive.
R.J. What were your responsibilities as a Village Attorney?
K.P. I would handle the day-to-day legal responsibilities of the municipality.
The issues were myriad and encompassed all areas of governmental law, whether it was environmental, contractual, personnel, financial, zoning, land-use or litigation. In addition, I would advise all the different boards within government and be available for a variety of needs.
R.J. Is it the norm for an attorney to represent multiple villages?
K.P. In anyone's business you get a reputation. I'm pleased to say that I have enjoyed working with many different boards and they obviously felt that I was capable of handling their issues.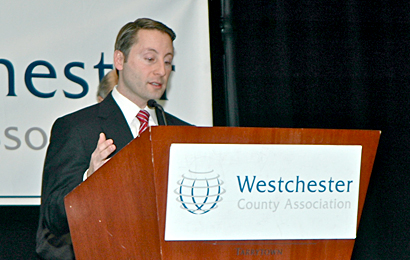 R.J. How does it come to pass that you were asked to be Rob Astorino's Deputy County Executive?
K.P. It's kind of interesting because I also represented school districts. For many years I represented the Mt. Pleasant Central School District and in the 1980's I was asked to present to the senior class a seminar on the legal profession. A young man named Rob Astorino was president of the senior class that year and he and I were on the same panel together. Rob and I continued to associate years later after he graduated from Fordham University and went on to become a School Board member along with being on the Town Board of Mt. Pleasant as well. I have sort of been in and out of Rob Astorino's career in my role as a lawyer for many years.
R.J. What are your responsibilities as Deputy County Executive?
K.P. My responsibilities are to oversee all the departments and the commissions within the County government and to work with the County Executive in government operations.
Basically I am a Chief Operating Officer (COO).
R.J. Even with your experience in local governments and school districts I would imagine this is a lot of work and responsibility.
K.P. Yes and I have assistants to help me with it all.
R.J. When you look at the river towns is there anything specific that this administration is going to address?
K.P. First of all I have been in the position a total of ten working days, so I haven't seen all the issues that may affect the river towns. Obviously the river towns border one of the greatest resources that New York State has, which is the Hudson River. We are certainly going to work cooperatively with all the communities that have issues regarding the Tappan Zee Bridge. The Bridge is a very important aspect of not only the river towns but the County as well, and the Route 287 corridor.
R.J. You were a member of the New York State Thruway Authority Board were you not?
K.P. Yes I was and I recently resigned from that position. In addition I resigned as Chairman of the New York State Greenway Conservancy and from the Taconic State Park Commission.
R.J. Obviously you were well positioned to continue working with the river towns.
K.P. Having grown-up in Tarrytown I am very aware of the importance of the Rivertowns for the prosperity and vitality of the Westchester County. I have worked on both sides of the County and my job will be to assist all communities, east and west, north and south.
R.J. What would you see as being a trying task for Rob Astorino in his new position?
K.P. The focus of Rob Astorino will be clearly an issue that faces our families and our children, which is the affordability of living in Westchester County. He will look at reducing taxes, and as the County Executive, hopefully will make an impact on other governmental entities such as school districts and towns, all of whom are looking at ways to reduce spending and generate more revenue.
R.J .Tell us about the County government that Astorino's administration inherited?
K.P. First of all, we will have to deal with a budget that was approved by the previous administration. We will have to live with that. That being said, it will no longer be business as usual. There may have to be drastic steps taken with an unnecessary work force or non-essential services. In today's world those non-essential services have to be looked at. We have to be able to cut back and live within our means.
R.J . What is the protocol for this appointment as Deputy County Executive?
K.P. I am an appointee of the County Executive. As a courtesy to the Board of Legislators my appointment has been referred to them for confirmation.
R.J . Is there any precedent at the County for the Deputy County Executive not being approved?
K.P.No.