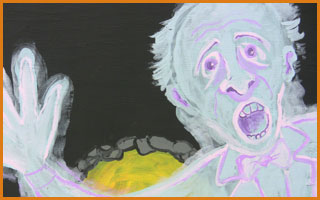 With Susan Sincero, one of the founding "mothers" along with other founding "fathers" the Tarrytown Halloween Parade will carve its way from Patriots Park along Broadway, hanging a right turn onto Main Street where it originated years ago.
Ms. Sincero will be the Grand Marshall and maybe, just maybe, her two tiny white canine companions will accompany her, adding to the pageantry that has grown with this perennial favorite.
We spoke with Village Recreation Supervisor Joe Arduino about the October 24th parade."The very first couple of years we made a concerted effort to involve merchants on Main Street and Broadway. They sold parade tee shirts and raffle tickets as a way of raising funds. They also decorated their storefront windows and were awarded prizes for the most creative displays," Arduino said.
Fast forwarding to 2015 there may very well be 20 floats and hundreds and hundreds of parade participants. It is also estimated that between three and four thousand people will line the streets as onlookers.
The meeting place is Patriots Park where people and floats will assemble starting at 4:30 pm. The actual parade begins at 5:30 pm and should it rain on Saturday then the very next day, Sunday, will see the parade rain or shine.
Spectators will be passed by street jugglers, hula hoop dancers, stilt walkers and other revelers simply out for a good time. A live band will perform on Main Street after a DJ has rocked the crowd.