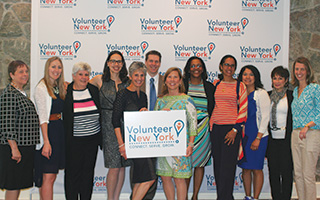 In February 1950, the Volunteer Service Bureau of Westchester opened its first office in a donated space at the YMCA on Mamaroneck Avenue. From a single desk with a borrowed phone, the founders of the Bureau created a central place to connect volunteers to nonprofit agencies who registered volunteer opportunities. A new chapter in the County's volunteer movement began to unfold.
Over the past 64 years, much has changed: our offices are now in a Tarrytown office complex with 13 dedicated staff members and room to utilize our own wonderful volunteers. We have many desks and telephones and utilize social media and a cloud-based online database to gather and disseminate information.
And much has stayed the same: local nonprofits, their staff and boards still know that without the support of volunteers they cannot begin to fulfill their missions. People of all ages and backgrounds still want to find a meaningful way to get involved. And there is a growing need for volunteers
willing to share their professional skills to help nonprofits complete important projects.
Continuing the work the Volunteer Service Bureau initiated, we have been operating for the past three decades as The Volunteer Center of United Way, a reflection of a strong strategic partnership with United Way of Westchester and Putnam. Together we have pursued a mutual interest of increasing volunteerism in these two counties. And looking forward, we have plans to continue this partnership with a focus on areas of education, income and health, the building blocks for a better life for all.
Just as our name evolved during the decades, so, too, has our role and our coverage area.  We are now the most central and comprehensive independent connecting organization for volunteers and nonprofits in Westchester and the Mid-Hudson Valley. Last year, we helped connect 19,000 people to more than 500 nonprofits for services valued at $8.2 million. After being designated by New York State as one of ten regional volunteer centers, we now support volunteerism in Westchester, Putnam, Rockland, Dutchess, Orange, Ulster and Sullivan counties.
The expansion of our service area along with an intensive strategic planning process prompted us to reconsider our brand. We understood that while The Volunteer Center's work was respected and valued, our name lacked clarity. This impacted our visibility and our ability to execute our own mission to engage more people throughout the region to take action to address pressing challenges and support nonprofits. We were also determined to make sure that we stay as relevant for the next decade as we have been for the past six.
So, on April 24th , at our annual Volunteer Spirit Awards celebration at the Doubletree, we announced our aim to intensify our message and mobilize even more people as Volunteer New York!
Our new brand is more than a name change. It is a clear call to action. Recent survey results show that New Yorkers want to volunteer but they either don't have time or don't know where to begin. That's where we come in. Volunteer New York! works really hard to make it really easy for anyone of any stage to get involved.
At the same time that we revealed our new name, we launched the Volunteer New York! Youth Initiative with a goal to raise $150,000 to provide the necessary resources to increase meaningful volunteerism among young people.  As each of the nine Volunteer Spirit Award recipients spoke, it was clear to the audience of 600 that if you volunteer early, you volunteer for life.
When youth engage in service, they are more likely to have a positive sense of empowerment and are less likely to engage in risky behavior. Young volunteers do better in school, have greater success finding meaningful jobs, and feel more connected to their families and communities.
This is true for any child, but especially for teenagers who leave high school without diplomas and never get to college. Volunteer engagement can be the way to build confidence, learn new skills, boost experience and find a good job.
When we are helping a teenager find the right place to lend a hand, matching a skilled professional to a nonprofit with a specific need, engaging teams of employees to complete a project together, involving the entire community in annual action days on the 9/11 National Day of Service and Remembrance and Dr. Martin Luther King Jr. Day, we are building stronger and more resilient communities. That's what happens when people say YES.
And why not have the strongest response from our neighbors in the River Towns? We welcome more engagement. We welcome more support.  Check out our online database, opportunity calendar and programs at www.volunteernewyork.org.
[blockquote class=blue]Connect, Serve, and Grow with Volunteer New York!  [/blockquote]