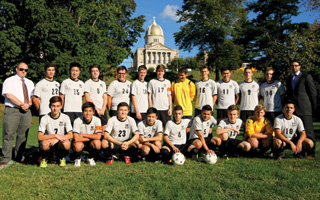 Watching Athletic Director John Buonamano lining out the field prior to a varsity soccer game was an interesting and revealing sight – interesting in that there was no grounds crew to do the job and, revealing in that Buonamano is involved at every level of the relatively new EF International Academy sports program in Tarrytown.
Buonamano had always wanted to be a coach and in his collegiate days he played baseball for Marist College and SUNY New Paltz. Having had the opportunity to be coached and mentored by some very fine men during his playing days, Buonamano wanted to share what he had learned from others.
After an eleven-year stint in the corporate world of marketing and advertising he returned to college, Manhattanville, to be exact, and pursued a Master's Degree in Physical Education and Sport Pedagogy. Currently he is enrolled at SUNY New Paltz for an advanced certification in educational leadership which he will obtain in 2013.
We spoke with him in the bleachers off of Marymount Avenue about his fairly new position and the sports programs at the International Academy. "This will be my second full year at the Academy.  I was hired as a physical education teacher and part of my responsibility was as the Athletic Director. When I first arrived we had sports clubs but we didn't partake in a lot of interscholastic competition. There really wasn't a foundation for athletics here," he said.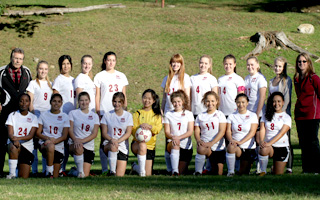 In one very short year, Buonamano put his corporate confidence, along with his love of sports, into practice, and the results for the EF International Academy have been noticeable, to say the least. "We started out small with a few programs, boys and girls varsity soccer and basketball. When Brian Mahoney came to the Academy last year I was happy to see that he had a Division I background in sports like myself. I was very excited for the opportunities that I knew would arise. Brian competed for Siena College in lacrosse and when we met we discussed our visions for the Academy athletically. We found that they were aligned with each other," he added.
Through the efforts of Buonamano and Headmaster Dr. Brian Mahoney, athletics has been expanded at the Academy. "We were 'friends and neighbors' of Section I which initially allowed us to play against public schools. We were not in a league and we couldn't get to go to playoffs. Last year we played Ardsley, Briarcliff, Rye and Solomon Shechter in both soccer and basketball. This was a turning point for the Academy;  we played so well against some top tier schools when you consider that the majority of their players grew up playing together. Our students come from all over the world and have no real history of playing together as a team until the season starts," Buonamano said.
For 2012 the EF International Academy is a part of the newly-founded Westchester Independent Athletic Association (WIAA) due in large part to the efforts of  Buonamano and Mahoney. "We decided it would be best if we played private schools in order to be more competitive. Our enrollment is smaller than public schools and we don't have the pool of students that they have," he added.
The new WIAA includes the EF International Academy, French American School, Masters, Harvey, Montfort, Stamford and Soundview Preparatory. Along with soccer and basketball, ultimate Frisbee and rugby is on hand starting in the spring.
Boys on the EF International Academy teams come from Indonesia, Germany, Mexico, Norway, Spain, Thailand, Russia, Kazakhstan, Venezuela and Vietnam. The girls' roster reflects the countries of Brazil, Ecuador, Italy, Korea, Morocco, Norway, Serbia, Spain and Venezuela.
As a college preparatory program the EF International Academy is an intensely rich environment formed by creative and dedicated staff along with students from around the world including those from our own river town villages. The newly-created interscholastic sports program is an exceptional counterbalance to the rigors of academics and as any successful learning center realizes, a much needed component to a well-rounded education.