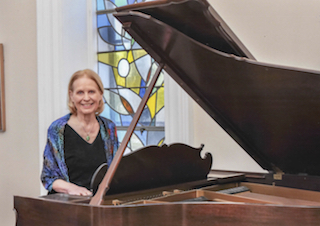 On Sunday, September 25, at 3:30pm, The Mozartina Musical Arts Conservatory will celebrate its 40th anniversary with a faculty concert at The Tarrytown Music Hall. Anna Fitzgerald (bassoon), Chris Funke (guitar), Amy Glover (clarinet), Yolanda Johnson (voice), Rebecca Kuehl (flute), Oxana Mikhailoff (piano), and Mia Theodoratus (harp) will perform a program spanning the solo suites of Bach to Beethoven and Tchiakovsky, chamber music of Bartok and Handel, and an exciting array of Brazilian Samba and Choro.
Photo: Helen Ringeisen, photographed by Margaret Fox
Joyce Rasmussen Balint, one of the very first instructors to join the faculty when the music school opened, will also play. Founder of the successful Midland Music Concert Series in Bronxville, she continues to teach mandolin and violin at the Mozartina while performing with the Metropolitan Opera Orchestra and regional orchestras.
The Mozartina, the first music and dance school in Tarrytown, was established in 1976 by the late Berthold F. Ringeisen, PhD and Helen Ringeisen to provide the finest professional instruction by renowned artist teachers and a stimulating environment for furthering the interest and nurturing the talent of music and dance. Berthold, born and raised in Germany and a recipient of a Fulbright Travel Grant, attended Yale University on full scholarship, The University of Heidelberg, Columbia University, and New York University. A language and humanities professor at Marymount College for over forty years, he was fluent in ten languages and also spoke the universal language of music, studying and enjoying the oboe, piano, recorder, trumpet, voice, and zither. Helen Ringeisen, a pianist, was born in her grandfather's hospital in Durango, Colorado to a long line of physicians. She received her training from the University of Colorado and later from Alton Jones and Edwin Hughes of the Juilliard School in New York City. Berthold met Helen while they were studying in Colorado, and he maintained that the classical music strapped to the back of Helen's bicycle was what caught his attention. At least that's the story he stuck to …
Set on several park-like acres of sprawling lawn and specimen trees, the music school occupies an 1850's manor house of sixteen rooms and a carriage house that once sheltered horses and carriages in days gone by. Over the past four decades, individual and group music education has been offered for children and adults, and the distinguished teachers, mostly performing artists with degrees from such schools as Eastman School of Music, the Juilliard School, the Manhattan School of Music, and the Mannes School of Music, have been inspiring students to pursue careers in music or to carry the joy of music with them for the rest of their lives.
In 1980, the Ringeisens risked the school and their life savings by placing The Mozartina up as collateral so that a non-profit organization they helped form could rescue the historic Tarrytown Music Hall from demolition. Late Tarrytown resident and banker, Stephen Byelick, is credited for making the mortgage possible. Today, the Music Hall is one of the busiest theaters in the area and a major economic engine, attracting over 85,000 people to Tarrytown's downtown area every year and generating over $1.5 million regionally and over $6 million nationally in visitor-related spending.
Come celebrate forty years of music on Sept. 25th! Tickets may be purchased online at www.tarrytownmusichall.org or by phone at 877-840-0457.