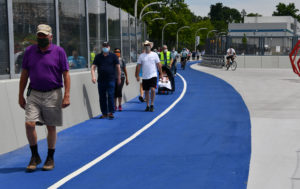 The Thruway Authority is beginning a $13.9 million project along South Broadway (Route 9) in the Village of Tarrytown to extend the Governor Mario M. Cuomo Bridge side path south to Lyndhurst Mansion and includes the construction of a pedestrian bridge over the Thruway to improve access and enhance safety for pedestrians and cyclists.  
The New York State Department of Transportation is a funding partner on the two-year project, which will also: 
Widen the ramps at Thruway Interchange 9 leading to and from South Broadway;

 

Add a second left turn lane from South Broadway to the southbound Thruway entrance ramp;

 

Install a traffic signal on South Broadway at Paulding Avenue to make it safer for motorists to turn;

 

Repair and resurface South Broadway from Route 119 to just south of Gracemere Lane;

 

Relocate a village water main onto the South Broadway bridge.

 
The new 270-foot-long pedestrian bridge is the highest-profile component of the project. At 14 feet wide, the span will be built in 11 segments by LMC Industrial Contractors, Inc., of Avon, N.Y., and connected on-site. Modular construction allows for much of the work to take place offsite, thus reducing the amount of activity near and above roadways and limiting the impact to motorists and residents. Expected to be erected later this year, the bridge will be located on the west (Hudson River) side of South Broadway. 
Upon completion of the project at the end of 2024, the Cuomo Bridge's side path will extend approximately one mile south from the path's Westchester Landing at 333 South Broadway in Tarrytown to Lyndhurst Mansion, where pedestrians and cyclists will be able to seamlessly connect with the Old Croton Aqueduct Trail. The side path currently ends at a high-volume jug handle where South Broadway meets Route 119. More than 500,000 people have visited the bridge's 3.6-mile path since it opened in June 2020. 
Starting this week, crews will begin tree clearing and grubbing in anticipation of excavation activities within the South Broadway bridge work zone. That will be followed by construction of new concrete bridge abutments on either side of the Thruway. 
The majority of construction will take place during the day; some work that requires Thruway lane closures will occur at night for the safety of workers and to limit impacts to traffic. In addition, the Exit 9 ramps will be reduced to one lane as needed for some construction activities. 
Gianfia Corporation of Hawthorne was awarded the contract following a competitive bidding process. 
Motorists may encounter lane reductions through the work zone at times and are reminded that in New York State, fines are doubled for speeding in a work zone.  
The Thruway Authority does not receive federal or state tax dollars; it is funded through user fees. The authority's approved 2023 budget invests a total of $413 million to support its capital program, which is scheduled to invest $1.9 billion into capital projects through 2027. 
For up-to-date travel information, motorists are encouraged to download its mobile app which is available to download for free on iPhone and Android devices. The app provides motorists direct access to real-time traffic and navigation assistance while on the go.  
Travelers can also visit the Thruway Authority's interactive Traveler Map which features live traffic cameras. Motorists can also sign up for TRANSalert e-mails, which provide the latest traffic conditions along the Thruway.