The Tarrytown Music Hall, in association with Music Without Borders, is pleased to announce its Fall line-up of family programming, presenting the best in children's theatre, dance and nationally touring PBS Kids programs.
Earlier in the year Tarrytown Executive Director Bjorn Olsson announced the Music Hall's plan to expand its theatrical offerings for children and  families, and based  on strong attendance and support from the community, the Music Hall will continue to present a large variety of family programs in addition to its popular concerts and comedy shows.
The 2013 Fall Family Series is as follows:
Angelina Ballerina the Musical
Saturday, October 5, 2013 – 11:00am, $30 Adults/$23 Children
Angelina and her friends, Alice, Gracie, AZ, Viki, and even their teacher, Ms. Mimi, are all aflutter because a special guest is coming to visit Camembert Academy! Angelina and her friends will perform all types of dance, including hip-hop, modern dance, the Irish jig and of course, ballet, and they are excited to show off their skills to their famous visitor. Angelina is the most excited of all, but will she get the starring moment she hopes for? Based on the CG-animated series, Angelina Ballerina The Next Steps on PBS KIDS®, ANGELINA BALLERINA THE MUSICAL is a family-friendly show that will have the entire audience dancing in the aisles.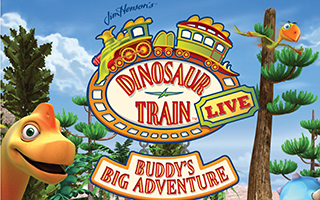 Dinosaur Train Live! – "Buddy's Big Adventure"
Saturday, October 19, 2013 – 2:00pm, $35 Adults/$25 Children
Based on the PBS Kids television show, "Dinosaur Train", produced by The Jim Henson Company. Come join Buddy, Tiny, Shiny, Don and all of their friends and family in this upbeat interactive, multi-media live trip back to the Mesozoic! Dinosaur Train Live! Buddy's Big Adventure takes the whole family back in time to an age when dinosaurs roamed the earth….and rode in trains! From giant Laura to teeny Tiny, all of our friends will be brought to life in an exciting, original, musical story created just for the stage where the audience is always a part of the show.  Through interactivity, music and laughter DINOSAUR TRAIN LIVE! BUDDY'S BIG ADVENTURE will have kids up and dancing in the aisles.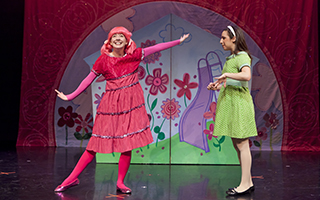 Pinkalicious the Musical
Saturday, November 16, 2013 – 1:00pm, $30 Adults/$23 Children
Pinkalicious can't stop eating pink cupcakes despite warnings from her parents. Her pink indulgence lands her at the doctor's office with Pinkititis, an affliction that turns her pink from head to toe – a dream come true for this pink loving enthusiast. But when her hue goes too far, only Pinkalicious can figure out a way to get out of this predicament.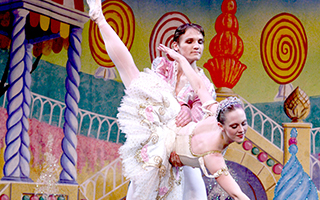 The Nutcracker – NY Theater Ballet
Saturday, November 30, 2013 – 3:00pm, $35 Adults/$25 Children
An enchanting hour-long production of the classic The Nutcracker, created for younger audiences, yet sophisticated enough for adults! Founded in 1978 by artistic director Diana Byer, New York Theatre Ballet has earned national attention for its artistry and elegant restorations and revivals of masterworks by great choreographers.  It is equally committed to performing innovative hour-long ballets based on children's literature for family audiences. In October 2012, NYTB reprised their sold-out performance with The New York Pops at Carnegie Hall with a suite of dances by Agnes deMille from her best-known Broadway musicals.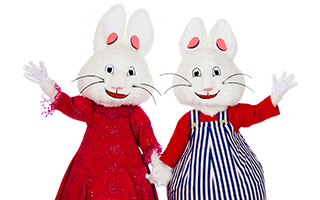 Max & Ruby in the Nutcracker Suite
Friday, December 20, 2013 – 3:30pm, $25-40
Max and Ruby bring to life a wonderful tradition this holiday! Inspired by Tchaikovsky's Nutcracker Suite, the beloved bunny siblings star in the brand new musical production Max & Ruby in the Nutcracker Suite: "Max & Ruby have been anxiously waiting to see The Nutcracker ballet with Grandma. Imagine their disappointment when a snow storm keeps them at home! A story of the Nutcracker will have to do! So vivid is Grandma's storytelling that the characters in the ballet come to life right before their very eyes!  Max & Ruby marvel at the sight of the many enchanting guests, including a Spanish bullfighter, the Sugar Plum Fairy and the Nutcracker Prince."
About the Music Hall
The 843-seat Music Hall is owned and operated by The Friends of the Mozartina Musical Arts Conservatory, Inc, a 501(c)(3) nonprofit, educational, and cultural organization established in 1979 and managed by a volunteer Board of Directors. The Music Hall is one of the busiest theaters in the region, offering the best in music, theater, dance, and film, and is a cultural destination, attracting well over 80,000 people including 30,000 children on an annual basis from all over the tri-state area.