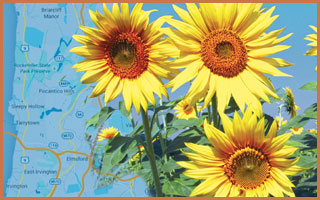 "Summertime is always the best of what might be," says it all. This quotation is from Charles Bowden, who was an American non-fiction author, journalist and essayist. While we make our vacations and summer plans, our village governments support local events, carry out ongoing projects and plan for new ones.
TARRYTOWN
A summer series of Jazz concerts presented by Jazz Forum Arts, in association with the Village of Tarrytown Parks & Recreation Department, is underway at Pierson Park, in Tarrytown. Concerts are held on Thursdays from 7-9 pm and Fridays from 6:30-8:30 pm throughout the summer. Juke Joint was featured on Thursday, 7/23. On Friday 7/24, Mr. Gone featuring Neil Alexander (Music of Weather Report & The Headhunters) performed. The following Thursday on 7/30, Andrea and Armenian Rug Riders will be performing. On Friday, 7/31 Hiromi Kasuga Quartet will appear. In August, on Thursday, 8/6 the group Hard Ten will be playing. On Friday, 8/7 Marcus Goldhaber Quartet will be on stage. On Thursday, 8/13 Tangled Vine will appear.  On Friday, 8/14 HAM featuring Jesse Brotter is scheduled. On Thursday, 8/20 The Saints will perform. On Friday, 8/21 the Chris Rogers Quintet will play. On Friday, 8/28 Jazz Forum Arts returns to entertain residents for a final performance with the 4th Annual Jazz Forum Arts Vocal Jazz Competition Winners Concert.
Village Administrator, Mike Blau stated that, "The Village of Tarrytown is in the process of conducting two planning studies.  The first is a review of the Office Building and Mixed Use Zoning Districts to assess whether the uses in the district makes sense based upon today's real estate market. The second is a study of an area around the MNRR station and the waterfront to determine what uses the Village would like to see developed in these areas. It is a hard look at what is permitted now and what uses (may be many of the same uses) should continue or new uses be added to the area." He added, "The Village is also working on a revision of the Local Waterfront Revitalization Program document, which is a document with 44 policies relating to the waterfront. The LWRP document is on the website."
Road repaving in Tarrytown is planned with additional monies appropriated by the Board of Trustees to address the result of a very difficult winter.  However, the paving project will not begin until the fall. The Day Camp summer program is operating and will continue through the middle of August.