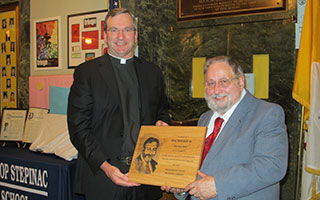 Back in the 1960s, when a Stepinac High School student in Ron Tedesco's Electronics class referred to him as "Electron Ron," no one would have known the nickname would follow him throughout his 50-year career as a faculty member. In honor of this milestone, Stepinac announced that it will dedicate a new Physics Lab in his name and recognize his achievements during a retirement reception last week.
At right, Father Thomas Collins, President of Stepinac High School, presents Tarrytown resident Ron Tedesco with a plaque for his 50 years at the school.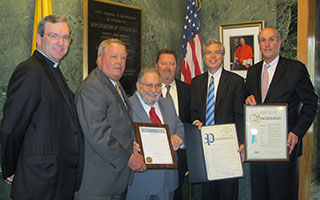 "After teaching Physics for so many years at Stepinac, I am deeply touched with this recognition from the school," Tedesco said. "Over the last 50 years, I have had a vested interest in the success of Stepinac's students. This new lab will continue to help students progress and I am proud to be a part of that effort."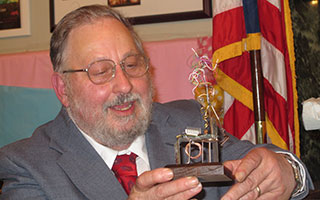 Beginning as a freshman student in 1953, Tedesco went on to become a Physics and Electronics teacher, Headmaster, Director of Alumni Affairs and the Annual Fund, and Secretary to Stepinac's Foundation Board and Alumni Association.
Donations are currently being accepted for the Ron Tedesco Physics Lab that will be constructed over this summer and unveiled for the start of the 2014-15 academic year. The funds will also help update the school's other science labs. An anonymous donor will match the donations up to $100,000.
This is the fifth lab to be dedicated to Tedesco. In 2003, four science labs were renovated in his honor.
As a teenager, Tedesco dreamed of becoming a doctor. But when his father died during his sophomore year, he decided to become a teacher, a profession that would allow him to finish his studies quicker so he could help support his family.
When he graduated from Stepinac in 1957, he tied for first overall in his class, won the Math, Science and German Medals and tied for the English Medal. After graduation, he served in the U.S. Army Reserves from 1957 to 1965; during that time he received his Bachelor of Science degree in Physics from Manhattan College, graduating first in his class in 1962. In 1964, he earned his Master of Science degree from Fordham University and did additional graduate work in Education at New York University, Fordham University and Long Island University, leading to a Certificate in School Administration and Supervision.
He began teaching at Stepinac in 1964. From 1967 through 1989, he chaired the Science Department while teaching Physics and a college level course in Electronics, which he also taught at Marymount College in Tarrytown. Tedesco then served as Headmaster for 10 years in 1989 through 1999. From 2000 to 2014, Tedesco retired from teaching and accepted the position as Director of Alumni Affairs and the Annual Fund. He is currently the Secretary to Stepinac's Foundation Board and Alumni Association.
"I remember Ron's Physics class like it was yesterday, He never raised his voice and his demeanor was always perfectly calm, yet he had control over his entire classroom," said Gerry Hatcher, Operations Manager of Westchester Modular Homes and 1982 graduate of Stepinac. After graduating from high school, Hatcher studied at Rensselaer Polytechnic Institute and became a Chemical Engineer. "Ron was a great inspiration to me."
Tedesco resides in Tarrytown with his wife, Anne O'Brien. He has been a member of the Tarrytown Planning Board since 1988.
To make a donation towards the Ron Tedesco Physics Lab, please contact Dennis Buckley at 914-946-4800, ext. 282 or email him at DBuckley@stepinac.org. Checks may be mailed to the school, made payable to the Stepinac Foundation and with "Ron Tedesco" indicated in the memo.
Founded in 1948, Archbishop Stepinac High School's mission is to offer young men a highly competitive academic and extracurricular program that will prepare them for college and leadership roles.  The faculty and staff accomplish these objectives by pursuing excellence and creating a supportive, disciplined atmosphere with a strong sense of camaraderie and Christian values that are unique to the Stepinac experience.  For more information on Stepinac High School please visit www.stepinac.org.