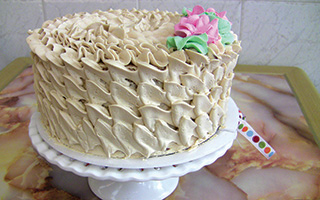 Custom made cakes and more cakes have arrived in Tarrytown at the Pastry Chef, 57 North Broadway. Under new ownership and direction, the Pastry Chef will specialize in making cakes for all occasions ranging from full-sheets that feed up to 110 people to smaller and deliciously varied ones.
There is a Molly Brown which is a chocolate cake with fresh strawberries, bananas and whipped cream. The Red Velvet is a sponge cake filled with cream cheese. The Neapolitan is custard- filled with icing on top. Like Oreo's? Then that's for you, with chocolate cake and Oreo's inside. With the warmer months upon us Fresh Strawberry Shortcake with whipped cream is very appealing. Chocolate Mouse and Tiramisu cakes along with Dulce de Leche simply add to choices that abound at the Pastry Chef. In short, if it's a cake you want, the Pastry Chef can make it.
There are also assorted pies, cookies and pastries to choose from and by being open 7 days a week from 7am to 7pm the Pastry Chef can satisfy any "sweet tooth" or special occasion need. Telephone 914-631-6556.