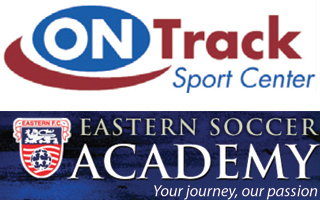 Eastern Soccer Academy is proud to announce its partnership with OnTrack Sport Center. These two local organizations will be continuing to provide exceptional fundamental instruction to children ages 4-7 this summer.
For the past 30 years, Eastern has been at the forefront of  Youth Soccer Development in the Tri-state area. Eastern Soccer is the soccer development component of Eastern Football Club which is a premier Soccer Club based out of Westchester. It boasts over 11 teams ages 8-23, and all its teams ages 12-18 compete in the National Premier League. Our players go on to play collegiately and become integral parts of their High School Varsity teams.
Eastern's Youth Development Program director, Brandon Beck, is a nationally certified premier soccer coach, an elementary school teacher, a high school coach,  a father, and also a local resident. The ESA curriculum is unlike any other. It has been developed by our staff of premier soccer coaches, certified teachers, physical education instructors, athletic directors, personal trainers, and the United States Soccer Federation. It fosters a personal love for the game of soccer as the #1 priority combined with skill instruction that is scaffolded and differentiated to fit your child's needs. Most importantly, we use small-sided activities that introduce realistic soccer experiences preparing students to be able participate in the real game of soccer. Our nationally certified coaches specialize in making this an exciting and fun experience.
The indoor facility at OnTrack Sport Center is the perfect controlled environment for your child this summer. Rain or shine, programs are never cancelled due to the weather. OnTrack's two enclosed training fields are appropriately sized for developing young players, because it allows children the confined space to dribble under control, score numerous goals, and stay in the action of each activity, while improving focus and field awareness. In addition, the indoor facility allows us to integrate arts and crafts, music, and even a story time with the youngest members during our 9 a.m.-12 p.m. day programs. All of these activities incorporate soccer and further the development of soccer as a team sport.
For further information call 914-909-2974 or visit  www.ontracksport.com