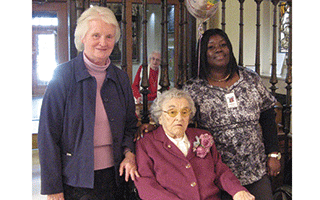 Sister Angela Hearne, RSHM, a member of the Religious of the Sacred Heart of Mary, celebrated her 100th birthday on February 7 at Marymount Convent in Tarrytown, NY, where she has been living for the past 5 years. The celebration included Mass, celebrated by Reverend Ronald Lemmert, and lunch for the religious community and staff of Marymount Convent. She received many messages of congratulations from around the world, including one from Sr. Rosamond Blanchet, General Superior of the Religious of the Sacred Heart of Mary who lives in Rome, Italy. She also received proclamations of congratulations from Nita Lowey, congresswoman for the 17th District, and Drew Fixell, mayor of Tarrytown.
Sister Angela was born on February 6, 1914 in County Waterford, Ireland. The eighth of John and Margaret Power Hearne's nine children, she attended the local national school up to sixth grade and then went to the Mercy Convent boarding school for high school.
She knew the Religious of the Sacred Heart of Mary in County Waterford and decided to join the congregation. She left Ireland in 1931 to enter the RSHM novitiate in Tarrytown, NY, and two years later in 1933, she made her first vows.
Sister Angela spent seventy-five years teaching and working with young children.
Her first assignment was to teach at St. Mary's School in Long Island City, NY. Then she taught at St. Catharine of Alexandria School in Brooklyn, NY.
In 1953, Sister Angela was sent to teach in Sag Harbor, NY. She served in Sag Harbor for the next fifty-four years where she taught at the Academy of the Sacred Heart of Mary Elementary School, St. Andrew's School, and Stella Maris Regional School.
For twenty summers, she ran the Sacred Heart of Mary Summer Camp at Cormaria in Sag Harbor.
Sister Angela withdrew from classroom teaching in 1990, but remained a vital part of St. Andrew's School, which had become Stella Maris Regional School, until November 2008, when she retired to Marymount Convent in Tarrytown, NY.
Always first in the building each morning, Sister Angela was an assistant to the principal, prepared and served the hot lunches, provided gym uniforms, counted money and did the banking. She tutored individual students and attended all student performances and activities.
She spent much of her spare time sewing, knitting, and crocheting items which she sold at the annual craft fair, with all of the proceeds going to the missions.
Sister Angela loved to cook and bake. Everyone who lived with her ate well. Sister Angela has been an inspiration and a blessing to all she has come in contact with over these 100 years.